Libya: urgent need for UN sanctions to help Benghazi's 'descent into chaos' - new briefing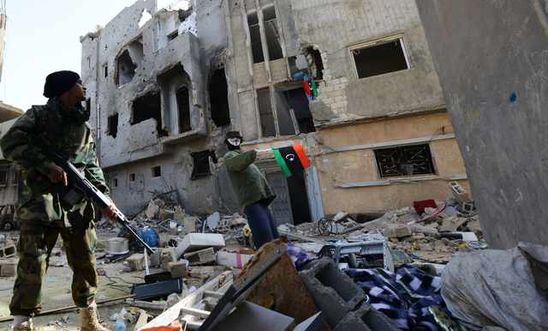 A member of the Libyan pro-government forces in the shattered streets of Benghazi earlier this month © REUTERS/Esam Omran Al-Fetori
New briefing reveals extent of abductions and killings in lawless city
Nearly four years after the Libyan people rose up against Colonel Gaddafi, much of their hopes for a stable future have been shattered, said Amnesty International today (26 January), as it published a new briefing on the conflict-ridden eastern city of Benghazi.
Amnesty's 42-page briefing, Benghazi's descent into chaos: abductions, summary killings and other abuses, shows how since last May gruesome abuses have been carried out by fighters from both the Shura Council of Benghazi Revolutionaries, a coalition of Islamist militias and armed groups, and opposing forces under General Khalifa Haftar's "Operation Dignity" grouping.
Fighters on both sides have abducted and summarily killed scores of individuals, with photos and videos of their dumped bodies - often bearing marks of torture - later appearing on social media. In other cases, activists, religious leaders and journalists have been killed in politically-motivated attacks. The perpetrators remain unknown but many in Benghazi blame groups affiliated with the Shura Council forces, particularly Ansar al-Shari'a, which aims to enforce a strict interpretation of Islamic law in Libya.
Under the banner of fighting terrorism and reinstating the rule of law, Operation Dignity forces launched an operation to retake Benghazi on 15 October. Three months of intense fighting and indiscriminate shelling in residential areas, in addition to airstrikes by Operation Dignity forces, have caused extensive damage to some areas, in particular those around the commercial port and the city centre. Scores of homes of those perceived to be affiliated with Islamist groups have also been looted, vandalised, set on fire and in some case bulldozed.
The humanitarian consequences have been dire, with at least 90,000 people displaced by the fighting and civilians struggling to cope with a lack of water, rising food prices, severe power cuts and shortages in cooking gas and fuel. The fighting has also caused shortages of medical supplies and medical staff, and some hospitals have been evacuated after being hit by shelling. All schools in the city have effectively closed. 
In recent weeks UN talks in Geneva have offered a glimmer of hope that Libyans may still be able to pull the country back from the brink, and Amnesty is calling on the UN Security Council to impose targeted sanctions - including travel bans and asset freezes - on those involved in the violation of human rights or international humanitarian law in Libya (as per last August's Resolution 2174). Amnesty is also urging the International Criminal Court, which has jurisdiction over war crimes and crimes against humanity perpetrated in Libya, to expand its investigations to incorporate crimes committed by all armed groups and militias in the country since February 2011. So far the ICC has only investigated crimes committed during the 2011 uprising and armed conflict.
Amnesty is insisting that states which took part in NATO's 2011 military campaign in Libya have a particular responsibility to address the deteriorating situation in the country.
Amnesty International Middle East and North Africa Deputy Director Hassiba Hadj Sahraoui said:
"Over the past few months Benghazi has steadily descended into chaos and misrule. 

 

"The city has been ripped apart by spiralling violence waged by rival groups and their supporters seeking vengeance.

 

"Unless the international community demonstrates the will to investigate war crimes and hold perpetrators accountable, the cycle of abuses and the suffering of victims is likely to worsen." 
Abductions and summary killings
More than 260 people - civilians and fighters - have gone missing in Benghazi between last June and November, according to the Libyan Red Crescent Society. Many abductions have been carried out by groups affiliated with the city's Shura Council, with the majority of people seized from their homes or in the streets by masked gunmen. Medical workers have also been targeted, often in order to treat wounded Shura Council forces in its field hospitals. Operation Dignity forces have also captured, tortured and summarily killed fighters and civilians. Some were detained after being accused on social media sites of belonging to Islamist armed groups.
Many families have only discovered that their relatives had been killed after identifying their dead bodies in photographs and videos posted on Facebook. In al-Marj, a town approximately 55 miles east of Benghazi, at least 17 photos of unidentified bodies dumped in the area were posted on social media sites. Amnesty found evidence that at least four of these men were summarily killed following their detention by Operation Dignity forces in al-Bayda. The sister of one victim, Anas al-Khitab, described to Amnesty how another brother had seen a photo of their brother's dead body on Facebook alongside four others:
"A forensics report states that Anas was killed by a bullet shot in his head, but did not mention any marks of torture. A relative saw bruises on Anas' body suggesting that he was beaten."