Landmark Arms Trade Treaty set to be ratified at United Nations today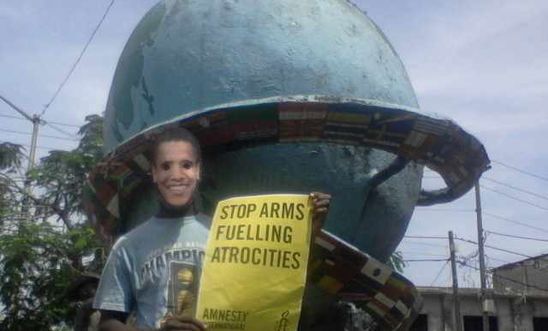 Campaigners in the Liberian capital Monrovia calling for an Arms Trade Treaty last year © Amnesty International
Protection for the millions of people whose lives are devastated by the poorly-regulated global arms trade is set to take a significant step forward today, Amnesty International said, with the historic Arms Trade Treaty expected to surpass the 50 ratifications needed to trigger a 90-day countdown to enter into force.
Argentina, the Bahamas, Czech Republic, Portugal, Saint Lucia, Senegal and Uruguay are expected to be the latest countries to confirm ratification of the treaty at a ceremony at the UN in New York today. The Arms Trade Treaty now looks set to become international law on 25 December, becoming legally binding in all countries that have ratified it by then.
Amnesty International Secretary General Salil Shetty said:
 

"This is a milestone in the fight to end the human suffering caused by the irresponsible flow of arms. By the end of this year, there will be robust global rules to stop arms going to human rights abusers. 

 

"This remarkable progress would not have been possible without the support of more than a million people who helped keep up the pressure on governments and said 'enough is enough, the supply of arms for atrocities and abuses must stop'. But the campaign does not stop here, all states need to urgently bite the bullet and commit to the Arms Trade Treaty."
International failures
Amnesty has continued to expose irresponsible arms transfers that facilitate grave abuses, including a massive shipment of arms from China to South Sudan where both sides to the armed conflict have been committing horrific acts, and recent arms supplies to Egypt from the USA, Cyprus, Czech Republic, Slovakia and Turkey, despite a substantial risk those arms would be used by Egyptian security forces to commit serious human rights violations.
Half a million deaths per year
At least half a million people die every year on average and millions more are injured, raped and forced to flee from their homes as a result of the poorly-regulated global trade in weapons. The Arms Trade Treaty includes a number of rules to stop the flow of weapons to countries when it is known they would be used to commit or facilitate genocide, crimes against humanity, war crimes or other serious violations of human rights. 
Five of the top-ten arms exporters - France, Germany, Italy, Spain and the UK have already ratified the Arms Trade Treaty.  While the USA is yet to ratify, it has signed the treaty. There has been resistance to ratification from other major arms producers like China, Canada, Israel and Russia.
20-year campaign
Amnesty has campaigned since the early 1990s with NGO partners to achieve robust, legally-binding, global rules on international arms transfers to stem the flow of conventional arms and munitions that fuel atrocities and human rights abuses. More than a million people around the world have called on governments to agree a strong Arms Trade Treaty with robust rules to protect lives. 
On 2 April last year a total of 155 states voted in the UN General Assembly to adopt the Arms Trade Treaty, and 118 states have since signed the treaty, indicating their willingness to bring it into their national law. Although 42 states that supported the adoption of the treaty last year have yet to sign the treaty, international momentum to make the treaty a reality is still growing.