Kuwait : dozens caught up in clampdown on government critics - new report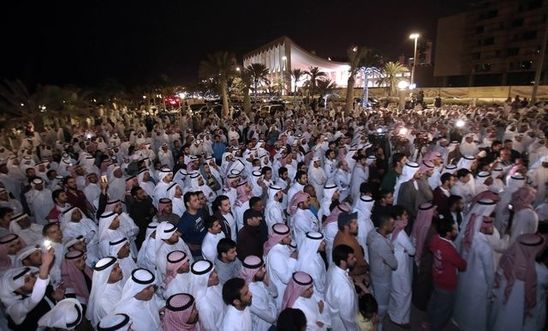 Kuwaitis outside the parliament building in March demanding the release of a jailed opposition leader © AFP/Getty Images
'Insulting' the Amir of Kuwait is punishable with a five-year jail sentence
Even quoting the Amir's words without official permission is criminalised
The Kuwaiti authorities have arrested, prosecuted and imprisoned scores of peaceful activists, in an effort to silence critics and punish dissent, said Amnesty International in a new report published today (16 December).
The 35-page report, The 'iron fist policy': Criminalisation of peaceful dissent in Kuwait, details the authorities' clampdown on freedom of expression since 2011 in the context of an overall deterioration of human rights in the country.
Many of those jailed in the crackdown are prisoners of conscience targeted solely for peacefully exercising their right to freely express themselves. Some have faced numerous charges and are mired in multiple, costly lawsuits, having to face court proceedings and jail sentences on a cyclical basis. 
In recent years there has been an upsurge in prosecutions over comments deemed "offensive" or "insulting" to the Amir of Kuwait - Sabah Al-Ahmad Al-Jaber Al-Sabah - and other Arab rulers, or comments perceived to "undermine" government officials. In the last two years, more than 90 cases have been reported in Kuwaiti media of people facing such charges in court. Undermining or questioning the Amir of Kuwait is punishable with a five-year prison sentence, and even quoting the Amir's words without official permission is criminalised. There are similar laws for comments deemed to endanger national security or ones considered defamatory of religion or religious figures. 
One case highlighted by Amnesty is that of Musallam al-Barrak, a former opposition MP and outspoken government critic who is serving a two-year jail sentence on various charges of undermining and insulting the Amir after he delivered a critical speech. At one point last year Al-Barrak was facing 94 separate criminal prosecutions simultaneously, in a clear bid by the authorities to harass and intimidate him into silence. Meanwhile, a group of 67 people who took part in a peaceful rally to express solidarity with him in 2013 by repeating his speech, were themselves arrested and charged with "insulting the Amir". 
Kuwait's clampdown began in 2011 in reaction to demonstrations staged by members of the minority Bidun community, though gathered pace after larger "Nation's Dignity" demonstrations the following year. As protests continued and were accompanied by criticism on social media, the cabinet announced an "iron fist policy" in 2014, promising "a decisive and firm confrontation with whatever could undermine the state, its institutions and constitution". 
Amnesty International's Middle East and North Africa Deputy Director James Lynch said:
"In the five years since a wave of popular protests swept across the Arab world we have witnessed a steady, relentless eroding of human rights in Kuwait as the authorities step up the clampdown on dissent. Scores of peaceful critics have been arrested and imprisoned simply for speaking out against a spectre of widespread repression.

 

"Instead of rounding up critics as criminals the Kuwaiti authorities must prove they are serious about human rights by urgently releasing all prisoners of conscience, repealing or revising laws used to clampdown on freedom of expression and fulfilling their international human rights obligations."
Cybercrimes law
Kuwaiti law also criminalises the use of specific means to communicate "insulting" messages. A new Cybercrimes law, due to come into force in early 2016, potentially offers the authorities further options to prosecute critics for peaceful expressing their opinions online. Last week the Kuwaiti Ministry of Interior's Twitter account reminded Kuwait's Twitter users of their requirement to abide by "public morals and the laws of the country" in their tweets, warning there will be no laxity in enforcement of the law "for all that is harmful to the country". Among those imprisoned for falling foul of such laws is Abdallah Fairouz, a political activist who was sentenced to five years in jail because of tweets he posted online more than two years ago, saying that no one should be immune from prosecution simply because they reside in a royal palace. 
Promised reforms 
During a review of Kuwait's human rights record at the UN Human Rights Council in June the Kuwaiti government promised to accept nine specific recommendations committing them to upholding international standards relating to freedom of expression. So far there has been no sign that these commitments have been delivered.