Kenya: Police must stop using lethal force against opposition supporters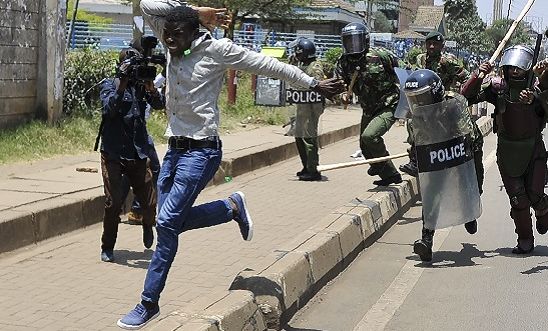 A protestor runs from anti-riot police on 26 September 2017 in Nairobi, during a demonstration to demand the removal of officials from national election oversight body © AFP/Getty Images
Amnesty International has today called on the Kenyan police to stop firing live ammunition during opposition protests and instead protect all people gathering in public, following running battles in which three opposition supporters are feared to have been shot dead.
Abdullahi Halakhe, Amnesty International's East Africa Researcher, said:
"We have received reports of at least three deaths, and live TV footage shows another man being shot in the leg. Firearms can only be used when strictly unavoidable in order to protect life.

"The indiscriminate use of live ammunition is totally unacceptable. Firearms must never be used to disperse crowds."
According to Amnesty research, at least 66 people have been killed by police in election-related violence since August. At least 33 of them died in the aftermath of the 8 August elections and another three were killed during the October re-run.
The opposition supporters were trying to get to Uhuru Park in downtown Nairobi, where they expected Raila Odinga to address them, just hours after he had returned from an eight-day trip to the US.
Odinga boycotted October's presidential election re-run describing it as a sham and has since launched a civil disobedience campaign to push for electoral reforms and a repeat election early next year. Uhuru Kenyatta was declared the winner of the poll, but the Supreme Court is due to rule on the validity of his victory on 20 November.