Kenya: High Court should declare closure of Dadaab refugee camp 'unconstitutional'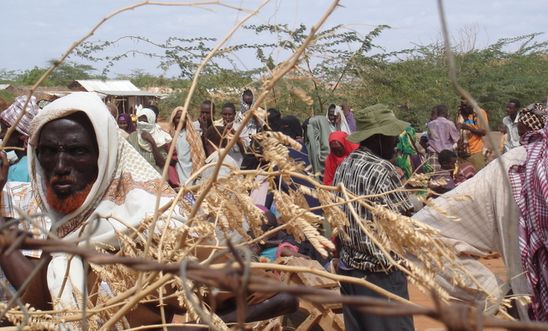 Spokespeople available
The High Court in Kenya is expected to give its verdict on a petition challenging the government's unilateral decision to close down Dadaab, the world's largest refugee camp on Thursday 9 February.
The petition, filed by the Kenya National Commission on Human Rights and Kituo Cha Sheria, and supported by Amnesty International, calls for the government's decision to close the camp to be declared unconstitutional.
Muthoni Wanyeki, Amnesty International's Regional Director for East Africa, the Horn and the Great Lakes, said:
"This crucial ruling will determine the fate of more than a quarter of a million, mostly Somali, refugees currently living in Dadaab. It also represents a major step in efforts towards halting forced returns of refugees to Somalia where we have evidence that they are at risk of serious human rights abuses.
"Worldwide we are witnessing a failure by governments to fulfil their obligations towards refugees. Donald Trump's travel ban attempts to close the door for resettlement in the US for even the most vulnerable Somali refugees. Due to ongoing armed conflict and lack of services, returning to Somalia is not an option for the majority of Somalis in Dadaab. These refugees quite simply have nowhere else to go.
"We need governments to come together and create long-term, sustainable solutions and to share responsibility, rather than turning their backs on people in need."
Background
The Kenyan government announced on 6 May 2016 that it was disbanding the Department of Refugee Affairs with immediate effect, and would close Dadaab camp on 30 November 2016, effectively forcibly returning more than 260,000 Somali refugees to Somalia despite the immense risks they would face.
On 16 November 2016, the Kenyan government announced it would postpone the closure of the camp for a further six months on 'humanitarian grounds.'
In November 2016, Amnesty International published a report entitled Nowhere else to go: Forced returns of Somali refugees from Dadaab refugee camp, Kenya, which showed that Kenyan government officials were coercing refugees to return to Somalia.
Somalia has been ravaged by more than two decades of conflict. Fighting between government forces supported by African Union troops, and Al-Shabaab militants has resulted in gross and systematic human rights violations of civilians and devastated basic services and infrastructure.