Jordan: aid to Syrians trapped in desert 'berm' must be followed by long-term solution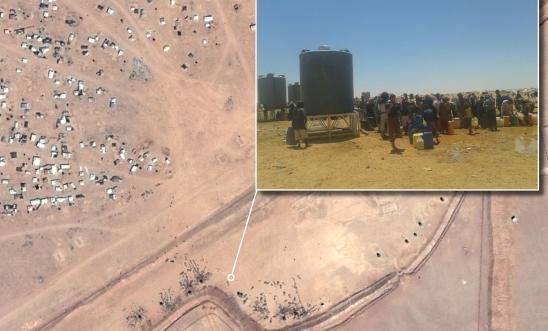 Satellite image and screenshot showing a water distribution point at Syrian-Jordan border © CNES 2016, Distribution AIRBUS DS. Screenshot from video obtained via the Tribal Council of Palmyra
'A real and meaningful solution would be for Jordan … to provide the stranded refugees with safety and sanctuary' - Audrey Gaughran
Reports of a resumption of humanitarian aid to 75,000 refugees stranded in a remote, arid area along the Jordanian-Syrian border called the "berm" are a long-awaited glimmer of hope that should be followed by a long-term solution, Amnesty International said today.
The news comes as the UN and the Jordanian authorities continue negotiations to open a humanitarian lifeline to the Syrians who have been stranded there since the Jordanian authorities sealed the border following an armed attack in June. 
Since then the refugees have endured extremely difficult conditions - with poor hygiene and limited access to clean water reportedly leading to a
deadly outbreak of hepatiti
s - with no aid except one delivery - made by crane - in August.
Amnesty International's Director of Global Issues and Research Audrey Gaughran said:
"News that humanitarian assistance will be resumed to tens of thousands of refugees stranded at the berm comes as a welcome relief. 
"However, we are worried by reports that aid will be lobbed across the border by crane or that refugees will be coerced, either directly or indirectly, to move to areas where they may be at risk of attack in order to receive it. 
"Tens of thousands of refugees have fled bloodshed in Syria only to suffer for months on end in utterly inhumane conditions at the berm. Aid organisations must have unfettered access to provide food aid, lifesaving medical treatment and other support. 
"A real and meaningful solution would be for Jordan, with the support of the international community, to provide the stranded refugees with safety and sanctuary from the brutal conflict in Syria. This includes allowing refugees into the country, while carrying out the necessary security checks in line with international law and standards. 
"The international community must also share responsibility with Jordan by providing significantly more resettlement places to alleviate the pressure on Jordan as one of the largest refugee-hosting countries in the world."