Japan: Two hanged in 'deplorable' executions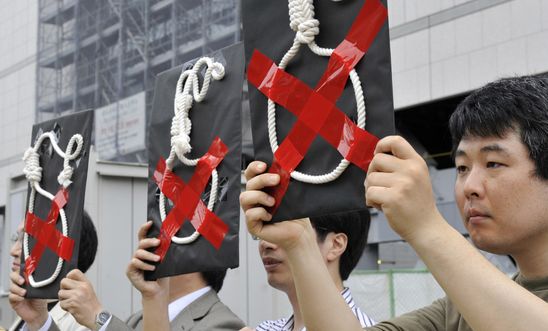 Amnesty International has again called on Japan to abolish the death penalty after two men were executed in the country this morning.
In the early hours of Friday morning, Koichi Shoji, 64, was hanged at Tokyo Detention Centre, while Yasunori Suzuki, 50, was hanged at Fukuoka Detention Centre. Both had been convicted of murder.
The executions are the first in Japan in 2019, and bring the total number of executions under Prime Minister Shinzo Abe's administration to 38. Currently, 110 individuals remain on death row in Japan.
Roseann Rife, East Asia Research Director at Amnesty International, said:
"These executions demonstrate the Japanese government's shocking disregard for human life. While the rest of the world increasingly turns its back on the death penalty, Japan remains stuck in the past by continuing with this ultimate cruel and irreversible punishment.

"It is deplorable that the government continues to carry out executions. As Japan prepares to host the UN Crime Congress next April, it is high time that its criminal justice system is reviewed to fully comply with international human rights law and standards.

"We urge the Japanese authorities to establish an immediate moratorium on all executions and promote an informed debate on the death penalty as first steps towards its abolition."
Executions in Japan are shrouded in secrecy with prisoners typically given only a few hours' notice, but some may be given no warning at all. Their families are usually notified about the execution only after it has taken place.
In April 2020, Kyoto will host the 14th United Nations Congress on Crime Prevention and Criminal Justice, a forum that brings together criminal justice experts among governments, intergovernmental and non-governmental organisations, and scholars to share experiences and identify solutions to problems relating to crime prevention and criminal justice. Several panels will seek to address the use of the death penalty in Japan and globally.
Amnesty opposes the death penalty in all cases without exception regardless of the nature of the crime, the characteristics of the offender or the method used by the state to carry out the execution, and has been campaigning for abolition of the death penalty for more than 40 years.