Japan: Hanging of two men this morning 'dismal news'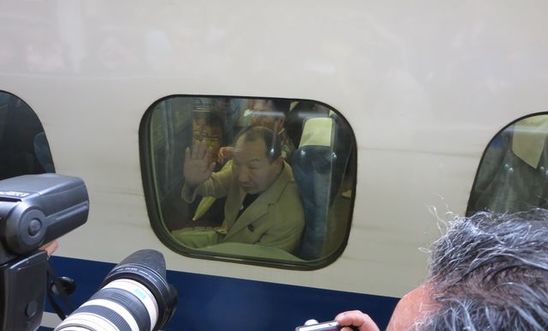 Hakamada Iwao, 78-year-old man who spent 46 years on death row
The execution of two men in Japan this morning is dismal news and part of a grim pattern of a return to the death penalty in Japan under Prime Minister Abe, Amnesty International said today.
Mitsuhiro Kobayashi, 56, and Tsutomu Takamizawa, 59,  were hanged early this morning, with Kobayashi executed at Sendai detention centre and Takamizawa at Tokyo detention centre. Both had been convicted of murder.
Since Prime Minister Abe's government took office in December 2012 eleven people have now been hanged, the latest executions bring the total executed in Japan in 2014 to three. 127 people remain on death row in Japan.
Jonathan Cornejo, Amnesty UK individuals at risk campaigner, said:

"Today's hangings are dismal news.  Under this government Japan seems determined to press ahead with the grim business of secret state killing.

"Decades of solitary confinement followed by being lead to the gallows with zero notice only adds to the overall cruelty of the Japanese death penalty.

"Recently a man was released from death row in Japan after a staggering 46 years. How can the Japanese government carry on killing in the face of such gross uncertainty?"
Serious flaws over the use of the death penalty in Japan were underlined in March, when a court ordered the temporary release of Hakamada Iwao, a 78-year-old man who spent 46 years on death row after an unfair trial. He was granted a retrial based on new DNA evidence that could prove his innocence.
However, prosecutors are appealing against his retrial, despite the court stating that the police were likely to have fabricated evidence.
More than 20,000 people in the UK have already called for the prosecution to retract their current appeal, at www.amnesty.org.uk/hakamada
Background
Executions in Japan are shrouded in secrecy with prisoners typically given only a few hours' notice, but some may be given no warning at all. Their families are usually notified about the execution only after it has taken place.
A lack of adequate legal safeguards for people facing the death penalty in Japan has been widely criticised.  This includes defendants being denied adequate legal counsel from the time of arrest, a lack of a mandatory appeal process for capital cases and detention in prolonged solitary confinement.
Several prisoners suffering from mental illness are also known to have been executed, or remain on death row.