Jamal Khashoggi case: UN's Agnes Callamard & fiancée Hatice Cengiz at London event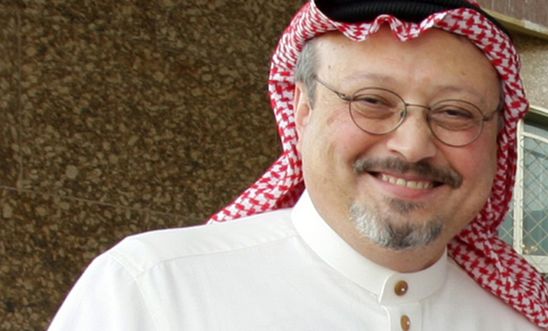 Jamal Khashoggi had criticised the Saudi authorities in his columns for the Washington Post © AFP/Getty Images
Amnesty International will host a high-profile event in London next week (Tuesday 9 July) on the murder of the Saudi Arabian journalist Jamal Khashoggi.
The event - "Jamal Khashoggi's Assassination: The Open Secret" - is organised by the ALQST Saudi Arabian human rights organisation and the Diwan London organisation, and will be attended by the following speakers:
Agnes Callamard, the UN special rapporteur investigating Jamal Khashoggi's murder
Hatice Cengiz, Jamal Khashoggi's fiancée
Karen Attiah, Jamal Khashoggi's editor at the Washington Post
Yahya Assiri, founder of ALQST
Moderator: Sahar Al-Faifi, civil rights activist and blogger
Last month, Agnes Callamard said there was "credible evidence" that senior Saudi Arabian officials were implicated in Khashoggi's "premeditated" murder in the Saudi consulate in Istanbul last October. 
Khashoggi was reportedly strangled moments after entering the building on 2 October and his body has never been recovered. Eleven alleged suspects are currently on trial before the Specialised Criminal Court in Riyadh for the murder.
Amnesty has said the trial "lacks credibility and transparency". 
Event details
Where: Amnesty International UK, 17-25 New Inn Yard, London EC2A 3EA (Shoreditch)
When: Tuesday 9 July 2019, 6-9pm 
Cost: free - though please reserve a place here