Saudi Arabia: Khashoggi execution 'being swept under the carpet' in pursuit of trade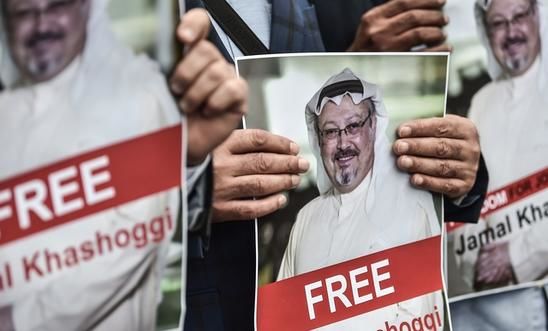 6 months on from execution no real signs of justice

Trial of 11 suspects denounced as lacking credibility

'Some governments whose diplomats have attended the trial of the alleged suspects have remained silent on fair trial concerns' - Samah Hadid
Marking six months since the shocking murder of Saudi journalist Jamal Khashoggi, Samah Hadid, Amnesty International's Middle East Director of Campaigns, said:
"Six months after the extrajudicial execution of Jamal Khashoggi, there are still no real signs of justice or international accountability.

"It has become clear that the issue is being swept under the carpet by the Saudi authorities and foreign governments for the sake of security cooperation, lucrative business ties and arms deals.

"The Saudi Arabian authorities' ongoing trial of 11 suspects lacks credibility and transparency.

"It is also outrageous to learn that some governments whose diplomats have attended the trial of the alleged suspects have remained silent on fair trial concerns, especially given the prosecution is seeking the death penalty for some defendants.

"Other than the attendance of representatives of foreign governments, independent monitoring bodies and media have not been permitted to attend the closed trial proceedings, which is extremely worrying.

"Under these unacceptable circumstances, the presence of diplomats risks being seen as legitimising a potentially flawed trial.

"Given the lack of transparency from the Saudi authorities and in the absence of an independent judiciary, an international, independent and impartial investigation is the only way to avoid a whitewash of this grave crime."
Murder and trial
On 2 October 2018, Saudi journalist Jamal Khashoggi was murdered in the Saudi consulate building in Istanbul, Turkey. Mr Khashoggi was reportedly strangled moments after entering the building. His body has never been recovered. Eleven alleged suspects are currently on trial before the Specialised Criminal Court in Riyadh for the murder.
Amnesty  launched a campaign calling on UN Secretary General Antonio Guterres to set up an independent investigation into Jamal's Khashoggi's death on 2 October 2018.
UK arms sales to Saudi
Since the conflict in Yemen began four years ago, the UK has sold almost £5bn of arms to Saudi Arabia, including two dozen Eurofighter Typhoons. Last year it was announced that a further 48 UK-supplied Typhoons were likely to be bought by the Kingdom.
According to the United Nations, during the past four years at least 6,800 civilians have been killed in the Yemeni conflict (with thousands more injured), the majority as a result of Saudi Arabia-led Coalition airstrikes. These airstrikes have struck hospitals, homes, weddings, crowded market places and public transport. Amnesty has repeatedly called on the UK Government to halt arms transfers to the Coalition because of the clear risk of such arms being used in breach of human rights and international humanitarian law in Yemen.