Jamaica: Police threaten and intimidate relatives of those unlawfully killed to cover-up their actions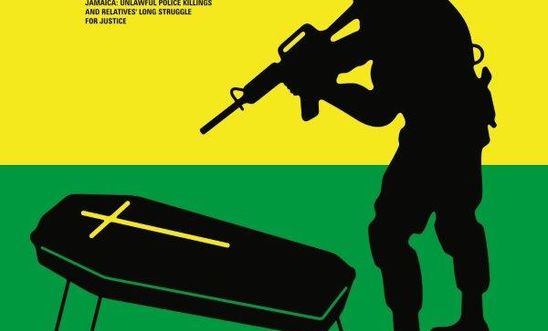 Unlawful police killings and relatives' long struggle for justice © Amnesty International
 Police tamper with crime scenes, plant weapons on victims and threaten relatives to dissuade them from reporting abuses

 Police officers have allegedly killed witnesses in suspected unlawful killings
Jamaican authorities and local police are promoting a culture of fear amongst thousands of women and their families to cover up unlawful police killings, Amnesty International said in a new report today (23 Nov, 3pm).
Waiting in vain: Unlawful police killings and relatives' long struggle for justice exposes how police across Jamaica have applied a catalogue of illegal tactics to prevent relatives of those unlawfully killed – mainly from poorer communities – from pursuing justice for their loved ones.  This includes systematic intimidation, harassment and threats against relatives at home, work, hospitals, and even during funerals.
Jamaica has one of the highest homicide rates in the world. In 2015 alone, there were 43 murders for every 100,000 people. Eight percent of these were at the hands of law enforcement officials.
Since 2000, law enforcement officials in Jamaica have allegedly killed more than 3,000 people – mostly young men living in poorer communities. Despite overwhelming evidence of police involvement in the crimes, only a handful of officers are reported to have been convicted of murder since then.
Americas Director at Amnesty International Erika Guevara-Rosas said:
"Jamaica's shocking culture of fear and violence is allowing police officers to get away with hundreds of unlawful killings every year. Shocking injustice is the norm.

"Unlawful killings of young men and terrorising their relatives into silence seems to be the alternative to proper investigations into crimes. Over the last two decades, Jamaica's 'fight violence with violence' approach to crime is not only short-sighted but has proven utterly ineffective in tackling the root causes of violence."

Illegal police tactics
 
The Jamaican police continue to use long-standing and well-documented illegal practices following fatal shootings. These include tampering with crime scenes, planting weapons on victims, and threatening victims' relatives to dissuade them from reporting abuses to the authorities.
Many relatives of people killed by the police have been harassed at home, in the courts, in hospitals and even at their loved ones' funerals.
Families said male relatives of victims had been unlawfully detained and beaten in detention.
In several cases relatives alleged that police officers had killed witnesses in suspected extrajudicial executions. Others spoke of women relatives who had left their communities and even the country to escape intense police intimidation and harassment. Low-income families had little option but to remain in their communities, in extreme fear of reprisals.
The brother of Nakiea Jackson, a restaurant operator who was shot dead by police on 20 January 2014 in downtown Kingston, said: "The first day the court was filled with police officers… They came to see who the witnesses were… to intimidate. The judge told them to leave the court house. Many times, police officers just show up to intimidate."
Witnesses to police misconduct are discouraged from coming forward, both out of fear and a lack of access to free legal representation. Police officers, by contrast, are all provided with legal representation.  
As the sister of Aneika Hayden, who was killed during a law enforcement operation in 2009, told Amnesty: "Even if you do follow up with the case, sometimes you don´t have the bus fare… to go [to court]. You give up hope. Because you are fighting a giant. You are thinking, how can you win? You are a poor man fighting the government. There is no way you can win that case."
Missing justice
Efforts by authorities in Jamaica have gone some way to reduce the number of unlawful killings by police – which have halved between 2014 and 2015. However, these efforts have so far failed to tackle the structural problems that allow security forces to continue to murder people in large numbers and avoid justice.
Many of those interviewed by Amnesty believe the reduction in killings could be a temporary lull provoked by the initial deterring effect of investigation and prosecution by the Independent Commission of Investigations (INDECOM), a police oversight mechanism established in 2010, rather than structural reform of the internal operation of the police.  
According to a 2008 report by the US-based George Washington University Law School and Jamaicans for Justice, less than 10% of all cases of killings by police since 1999 had reached the criminal courts.
After setting up INDECOM, Jamaica established a Special Coroner's Court in 2011 to conduct inquests into cases of suspected police killings. However, the paltry budget allocations to the court seriously hinders its capacity.  As of July this year, INDECOM had charged nearly 100 officers with various offences, but chronic delays and backlogs in the justice system have resulted in only eight cases completing trial and of those only one murder conviction being secured.
By 2013, the Special Coroner's Court had a backlog of 300 cases and as of 2016, INDECOM has more than 1,000 open investigations.
Jamaica's security forces work under difficult conditions. According to senior police, long hours, low pay, limited respect for work-life balance and dangerous working environments make it very difficult to retain officers. In 2015, 415 police officers resigned. Between 2005 and 2015, 27 on-duty police officers were killed in security operations.
Erika Guevara-Rosas added:
"If authorities in Jamaica are serious about tackling the country's shocking levels of police killings and violence they must urgently promote a deep police and justice reform to address not only the number of police murders but the root causes of the problem."  
 
Downloads