Israel/Palestine: pattern of unlawful killings of Palestinians - new memo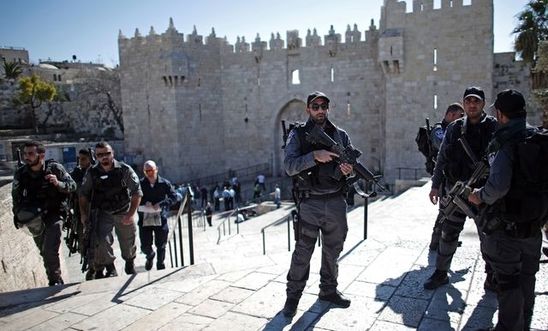 The Israeli security forces have been accused of 'trigger happy' responses © Thomas Coex/AFP/Getty Images
Of the 20 incidents in the memo, an indictment has been filed against a soldier in only one case
'The cases of unlawful killings outlined in this memorandum reveal a shocking disregard for human life' - Philip Luther
Nearly a year on from a bloody spike in violence in Israel and the Occupied Palestinian Territories, Israeli forces continue to display an appalling disregard for human life by using reckless and unlawful lethal force against Palestinians, said Amnesty International.
In a recent
memorandum
to the Israeli authorities, Amnesty has detailed 20 cases of apparently unlawful killings of Palestinians by Israeli forces and Amnesty is seeking clarification over the status of any investigations in these cases. 
In at least 15 of the cases, Palestinians were deliberately shot dead, despite posing no imminent threat to life, in what appear to be extrajudicial executions. The memorandum was sent to the Israeli authorities on 14 September, but so far they have not responded to Amnesty's concerns. 
Since 1 October last year, more than 225 Palestinians and three foreign nationals have been killed by Israeli forces, most of them during suspected, attempted or actual attacks against Israeli soldiers, police and civilians. At least 35 Israelis and two foreign nationals have been killed in the same period by Palestinian attackers. In some cases, Amnesty stressed that lethal force may have been the only means of protecting the lives of civilians or members of the security forces. However, as in the cases highlighted in the memorandum, in many instances those killed did not pose an immediate threat to life. This includes the shooting of people who were wounded or fleeing and the shooting of unarmed protesters.
Hadeel al-Hashlamoun was 18 when she was shot dead by Israeli forces in Hebron on 22 September last year. According to a witness, she was holding a knife but was separated from the soldiers by metal barriers. A review by the Israeli army concluded that she could have been detained alive. Amnesty is not aware of any criminal investigation into her death. Hadeel's father, Dr Salah Hashlamoun, said: 
"I have been going through some serious depression and loss of hope recently. It is now a year since my daughter was killed, the problem is not only that we have not seen any bit of justice, but that Israel continues to kill our youth - that the killing is increasing. I want to shed light on the case of my daughter again now with the anniversary - not only to have justice for us but maybe to try and slow down the rate of murder which is again on the rise."
Mahmoud Muhammad Ali Shaalan, was 16 when he was killed on 26 February at Beit El checkpoint, near Ramallah. According to eyewitness testimony provided to Amnesty, he was shot from a distance by Israeli soldiers after being turned away from the checkpoint. An autopsy corroborated this version of events, but a criminal investigation into the killing has still not been opened. His family have also been denied access to video footage of the killing. Mahmoud Muhammad Ali Shaalan's nephew, Salman Shaalan, said:
"It's been a nightmare for us. All evidence points to him being killed for no reason, so everyone is staying quiet, just hoping it goes away. They're not investigating, not going to find out what happened. What we are faced with today is a fight against the reality that Israel can do anything it wants without being held accountable by anyone. I hope the time for justice is coming."
Amnesty's research shows that the military justice system repeatedly fails to deliver justice for Palestinian victims of unlawful killings and their families. Of the 20 incidents in the memo, an indictment has been filed against a soldier in only one case. In many cases where there appears to be evidence of an extrajudicial execution, there is not even an open criminal investigation The conduct of the Police Internal Investigations Department with regard to allegations of unlawful killings carried out by the Israel Police raises serious questions about their ability to carry out impartial and independent investigations.
Amnesty International's Middle East and North Africa Research and Advocacy Director Philip Luther said: 
"The cases of unlawful killings outlined in this memorandum reveal a shocking disregard for human life and pose some serious questions to the Israeli authorities. 

 

"Those responsible must be brought to justice to ensure this cycle of unlawful killings ends.

 

"Relatives of Israelis killed by Palestinians can count on a state that aggressively pursues the attackers - and often oversteps the bounds of legality in that pursuit. Palestinians, on the other hand, do not have anyone to protect their rights."
Trigger-happy Israeli security forces
Unlawful killings by Israeli forces are nothing new. In an 85-page 
report in 2014
Amnesty documented 19 apparently unlawful killings, including three cases where there was evidence of wilful killings, which amount to war crimes.