Israel/OPT: Israeli violence at al-Aqsa Mosque shows 'sheer brutality' of apartheid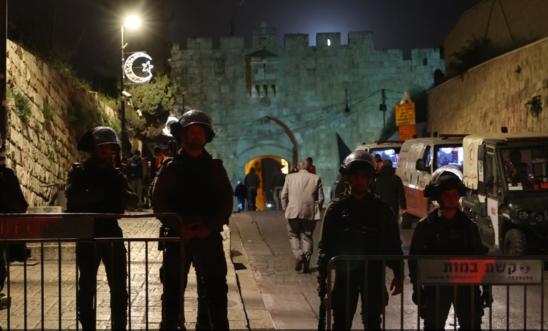 Israeli raids on the site during Ramadan have become a regular occurrence © Anadolu Agency/Getty
Second night of horror at Jerusalem's al-Aqsa Mosque includes more beatings of Palestinian worshippers
 
Palestinian Red Crescent Society tells Amnesty about attacks on medical personnel  
 
'Once again, the Israeli security forces have shown the world what apartheid looks like' - Heba Morayef
 
A second consecutive night-time attack on Palestinian worshippers at Jerusalem's al-Aqsa Mosque illustrates the sheer brutality of Israel's system of apartheid against Palestinians, Amnesty International said today.
 
Israeli security forces stormed the mosque compound at around 10.30 pm last night, shortly after evening prayers. They fired stun grenades and used rifle butts to beat Palestinians who had gathered there for Ramadan.
 
During the first attack on Tuesday night, Israeli security forces arrested at least 450 Palestinians, about 50 of whom are still in detention. 
 
Many of those released were barefoot and visibly battered and bruised when they emerged from Atarot Detention Centre. A lawyer at the scene told Amnesty that many detainees, including children, were interrogated and beaten while in detention. Amnesty also heard from the Palestinian Red Crescent Society how, during Tuesday night's attack, Israeli forces had prevented paramedics from accessing wounded people inside the mosque compound by firing rubber bullets at ambulances.  
 
Heba Morayef, Amnesty International's Middle East and North Africa Director, said:
"Once again, the Israeli security forces have shown the world what apartheid looks like.
 
"These orchestrated attacks demonstrate just how far the Israeli authorities will go to maintain their cruel system of apartheid. 
 
"Shocking footage from the past two days shows Israeli security forces beating men, women and children, and dragging them out of the mosque where they had gathered to spend the night in peaceful prayer and reflection. 
 
"Israeli security forces have now subjected Palestinian worshippers to two consecutive nights of horror and turned one of the holiest sites in Islam into a crime scene. 
 
"We urge the international community to take immediate action to protect Palestinians from violent oppression, and to hold the Israeli authorities accountable for their crimes against international law. Impunity for these shocking attacks against people at prayer will only fuel further violence."
Second night of violence
With many Palestinians fearful following Tuesday night's violence, the number of worshippers at al-Aqsa was much lower yesterday. Once again, Israeli security forces first ordered worshippers to leave, before storming the mosque and firing stun grenades and beating people. Some 50 Palestinians are still detained after the first raid on Tuesday/Wednesday. Those who've been released are prohibited from entering Jerusalem's Old City - including the al-Aqsa Compound - for one week.
 
Amnesty spoke to several Palestinians about the violence they'd faced at the hands of the Israeli security forces. Shadi (not his real name), aged 17, described how Israeli police beat him as they dragged him out of the mosque on Wednesday morning:
"Twice I tried to raise my head and both times [the police] beat me with the butt of their guns on my head […] you are not allowed to raise your head. I was hurting all over my body from the beatings and the bruises."
He was released later on Wednesday and given an expulsion order banning him from the Old City and al-Aqsa for a week. He also told Amnesty:
"Outside Atarot, I saw others […] what I went through does not even compare to the beatings that others faced."
The Palestinian Red Crescent Society said some of their medical personnel were also attacked during Tuesday night's raid, and that one of their ambulances was hit by rubber bullets. According to Muhammed Fityani from the organisation:
"Our staff was prevented from entering the mosque's courtyards and our work was impeded […] one of our paramedics was directly assaulted and beaten, and two of our ambulances were targeted, one [with] rubber bullets."
Ramadan raids
Israeli forces regularly raid al-Aqsa during the month of Ramadan. An attack in 2021 left at least 170 Palestinians injured and stirred widespread protests. Following the first raid on al-Aqsa this week, protests broke out in several Palestinian cities and towns inside Israel. Israeli forces carried out airstrikes on the Gaza Strip yesterday and earlier today in response to missiles fired into Israel.