Israel/Gaza: warning to both sides to spare civilians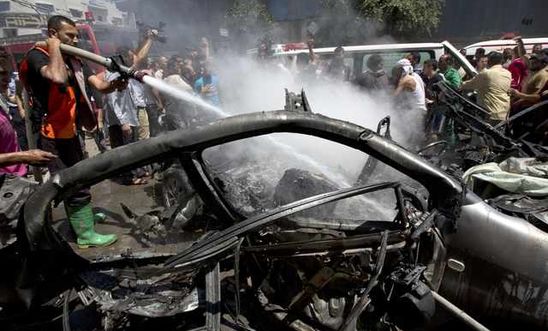 An Israeli air strike on a car in Gaza City which killed four people earlier today © MOHAMMED ABED/AFP/Getty Images
'All sides to the conflict have an absolute obligation under international humanitarian law to protect the lives of civilians' - Philip Luther
Amnesty International is calling on the Israeli authorities and Palestinian armed groups in Gaza - including the military wing of Hamas - to ensure that civilian lives are protected as the conflict between the two sides escalates.   
Israel launched a military offensive - Operation "Protective Edge" - overnight, striking at least 50 sites in the Gaza Strip, and carrying out dozens more air strikes since the morning. According to medics, at least 50 people - including children - have been wounded in Gaza as a result of Israeli military operations today. 
Meanwhile, Palestinian armed groups in Gaza have fired scores of indiscriminate rockets into southern Israel in recent days, and continued to do so today. According to the Israeli Ministry of Foreign Affairs, since 12 June more than 240 indiscriminate rockets had been fired from Gaza into southern Israel. Amnesty has repeatedly condemned the firing of indiscriminate rockets, which cannot be aimed accurately at military targets. Hamas' military wing has claimed responsibility for firing dozens of such rockets earlier today. 
The Israeli military and Palestinian armed groups have repeatedly failed to hold perpetrators accountable for war crimes and other serious violations of international law committed during previous rounds of fighting, in particular during the Israeli military operations "Pillar of Defense" (November 2012) and "Cast Lead" (December 2008-January 2009). Amid renewed hostilities and in light of the continuing failure by both sides to provide accountability, Amnesty is again calling for an international arms embargo on Israel, Hamas and Palestinian armed groups in Gaza.
Amnesty International Middle East and North Africa Director Philip Luther said:
"The civilian populations of both Israel and Gaza have experienced far too much tragedy, unnecessary bloodshed and loss of life in recent years, with no accountability. 

 

"All sides to the conflict have an absolute obligation under international humanitarian law to protect the lives of civilians caught up in the intensifying hostilities.

 

"Israel must only carry out strikes on legitimate military targets and must exercise the utmost caution in the means and methods of attack, to minimise the risk to civilians and damage to civilian homes and infrastructure. 

 

"The firing of indiscriminate rockets by Palestinian armed groups in Gaza is a war crime that endangers civilians on both sides of the Gaza/Israel border. All indiscriminate rocket fire by these groups must cease immediately."