Israel jails Palestinian activist who protested over Ahed Tamimi's arrest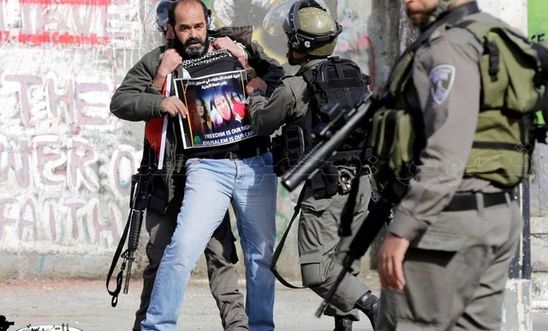 Munther Amira was arrested in December for protesting with a poster calling for Ahed and Nariman Tamimi's release © Popular Struggle Coordination Committee
Munther Amira becomes latest peaceful protester jailed in occupied West Bank
'Yet again, the Israeli authorities are responding to peaceful protest with arbitrary imprisonment' - Magdalena Mughrabi 
Amnesty International is calling on the Israeli authorities to release Palestinian prisoner of conscience Munther Amira, who has been sentenced to six months in prison after being arrested at a protest calling for the release of fellow Palestinian activist Ahed Tamimi and Ahed's mother Nariman.
Mr Amira, who was initially charged with 13 offences, was today convicted on four charges by Ofer military court in the occupied West Bank.
The charges related to participation in a demonstration held against the Balfour Declaration; participation in a demonstration against US President Donald Trump's decision to recognise Jerusalem as the capital of Israel; participation in a demonstration calling for the release of Ahed and Nariman Tamimi; and organising demonstrations without the authorisation of the Military Commander of the West Bank. 
Amira was arrested by Israeli soldiers on 27 December while peacefully participating in a protest in the city of Bethlehem calling for the release of Ahed and Nariman Tamimi.
Amnesty considers Amira - the coordinator of the Popular Struggle Coordination Committee, a community-based group providing legal aid and advocacy support to activists in the Occupied Palestinian Territories - a prisoner of conscience who should be released immediately and unconditionally.
Magdalena Mughrabi, Amnesty International's Middle East and North Africa Deputy Director, said:
"Yet again, the Israeli authorities are responding to peaceful protest with arbitrary imprisonment. 

"Instead of unlawfully punishing Munther and other Palestinians who peacefully challenge the harsh reality of the ongoing occupation, the Israeli authorities must remember their legal obligations as the occupying power. This means respecting and protecting the rights of Palestinians to peacefully express themselves.

"Munther Amira must be released immediately and unconditionally."