Israeli authorities should release Ahed Tamimi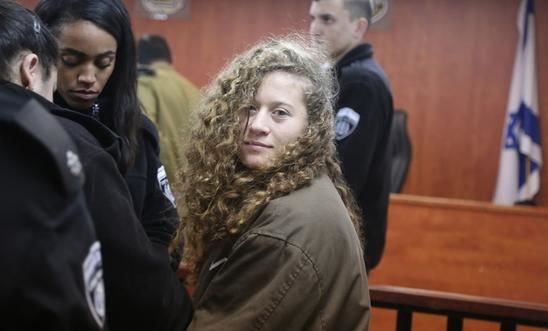 17-year-old Ahed Tamimi is facing a possible ten-year jail sentence © Getty Images
Tamimi's trial set to go ahead tomorrow - she faces up to ten years in jail
'As an unarmed girl, Ahed posed no threat' - Magdalena Mughrabi
The Israeli authorities must immediately release teenage activist Ahed Tamimi whose continued detention is an attempt to intimidate Palestinian children who dare to stand up to repression by occupying forces, Amnesty International said ahead of her trial tomorrow.
Tamimi, who is due to go on trial in Ofer juvenile military court in the occupied West Bank, faces 12 charges, including aggravated assault, after a video was posted on social media showing her shoving, slapping and kicking two Israeli soldiers in her village on 15 December. 
The teenager, who spent her 17th birthday in detention, could receive up to ten years in prison if convicted, and her trial is expected to last several months.
Under the Convention on the Rights of the Child, to which Israel is a state party, the arrest, detention or imprisonment of a child must be used only as a measure of last resort and for the shortest appropriate period of time.
Magdalena Mughrabi, Amnesty International's Middle East and North Africa Deputy Director, said:
"By refusing to release Ahed Tamimi since her arrest on 19 December, the Israeli authorities have shown nothing but contempt for their obligations under international law to protect children.

"As an unarmed girl, Ahed posed no threat during the altercation with the two Israeli soldiers who were heavily armed and wearing protective clothing. Nothing she has done can justify her continued detention and the long, aggressive interrogation sessions she has been forced to endure during the first two weeks of her detention.

"Yet again, the Israeli authorities have responded to acts of defiance by a Palestinian child with measures that are entirely disproportionate to the incident in question."
Protest sparked by Trump's announcement on Jerusalem
Ahed Tamimi was arrested on 19 December after her mother, Nariman, also a prominent activist, posted footage of the altercation in question online. Nariman was arrested later that day, while Ahed's cousin, Nour, was arrested the following morning. 
Ahed confronted Israeli soldiers amid a demonstration - against US President Trump's recognition of Jerusalem as Israel's capital - in the small village of Nabi Saleh, north-west of Ramallah in the occupied Palestinian West Bank. The incident took place on the same day that Ahed's cousin, 15-year-old Mohammad, sustained serious injuries after being hit in the head by a rubber bullet fired at close range by an Israeli soldier.
Hundreds of Palestinian children prosecuted every year
There are currently around 350 Palestinian children in Israeli prisons and detention centres, according to local human rights organisations. 
The Israeli army prosecutes hundreds of Palestinian children in juvenile military courts every year, often after arresting them in night raids and subjecting them to ill-treatment, including blindfolding, threats, harsh interrogations without the presence of their lawyers or families, solitary confinement and in some cases physical violence. 
Palestinians in the Occupied Territories are prosecuted under military orders enforced through the military courts, and many criminalise peaceful activities such as peaceful political expression or organising and attending protests without prior permission from an Israeli military commander. The judges and the prosecution in these cases are part of the Israeli military. The jurisdiction of the Israeli military court system is never applied to Israeli settlers living in the West Bank, who are instead governed by Israeli civil law. Incidents of settler violence in the West Bank normally go unpunished, while Palestinians are routinely targeted and arrested.