Israel: collective punishment will not bring the justice that murdered teens deserve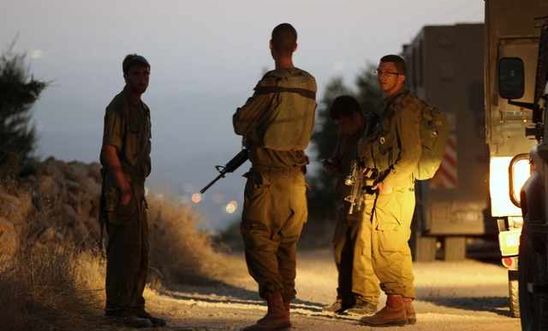 Israeli soldiers blocking the northern entrance of the village of Halhul yesterday, after the teenagers' bodies were found © HAZEM BADER/AFP/Getty Images
'Justice will not be served by Israel seeking revenge by imposing collective punishment, or committing other violations of Palestinians' rights' - Philip Luther
Amnesty International has called for perpetrators in the abduction and killing of three teenage Israelis in the West Bank to be brought to justice, but has condemned the Israeli authorities' actions in response as unlawful "collective punishment" of Palestinians.
Yesterday the bodies of three Israelis - Eyal Yifrah, 19, Gilad Shaar, 16, and Naftali Fraenkel, 16 - who had been abducted on 12 June, were found north of the city of Hebron in the Israeli-occupied West Bank, with the Israeli authorities vowing revenge against the Palestinian armed group Hamas alleging it was behind the abductions. 
The apartments of the families of the two men that Israel says are suspects in the case - Marwan al-Qawasmeh and Amer Abu Aisheh, both from Hebron - were demolished by the Israeli military overnight, causing significant damage to the larger family buildings in which they were located. The men's whereabouts are unknown. 
The Israeli authorities have not presented any evidence to support their assertion that Hamas or the two named suspects were responsible for the teens' murders. Following a security cabinet meeting, Israel launched at least 34 air strikes on locations across Gaza this morning, with reports of Palestinian injuries. Militant groups in Gaza have also fired at least 18 rockets into southern Israel; so far no injuries have been reported.
Meanwhile, in the West Bank Yousef Abu Zagha, 20, was shot dead by Israeli soldiers during an arrest raid in Jenin refugee camp this morning after he allegedly hurled a grenade at them. This brings to at least six the number of Palestinians - including at least one child - killed by Israeli forces in the West Bank since the beginning of the military operation to search for the Israeli teens.
Amnesty International Middle East and North Africa Director Philip Luther said:
"Nothing can justify these abductions and murders, which we again condemn. Those responsible must be brought to justice.

 

"But justice will not be served by Israel seeking revenge by imposing collective punishment, or committing other violations of Palestinians' rights. Rather, the Israeli authorities must conduct a full, thorough and impartial investigation that leads to the prosecution of those suspected of being responsible in fair trials.

 

"The logic of tit-for-tat retaliation will only increase the likelihood for further human rights violations and abuses, and suffering by Palestinians and Israelis; it needs to stop immediately."
Ongoing collective punishments
The escalation of Israel's military response comes amid continued practices which amount to collective punishment against civilians in the occupied Palestinian Territories, and the unlawful policy of settling civilians in the West Bank. These include arbitrary arrests and detention - with at least 364 Palestinian currently under administrative detention, the highest number in years - as well as an increased number of checkpoint closures and arbitrary restrictions on Palestinians' right to freedom of movement.
Meanwhile, Israeli settlers have attacked Palestinians in the Hebron and Bethlehem areas, with a nine-year-old girl reportedly injured after a settler ran her over with his car. Settlers have also set up three new outposts in the West Bank since the Israeli teens' bodies were found.