Iraq: witnesses confirm snipers have deliberately killed protesters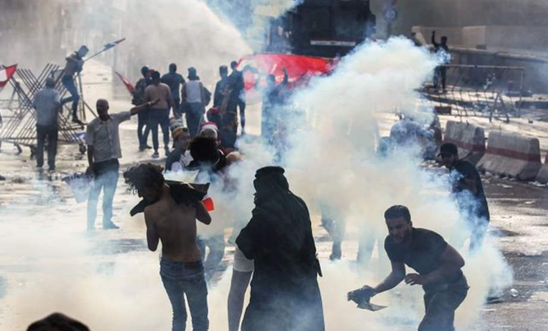 Multiple witnesses describe what appear to be coordinated sniper attacks from behind security force positions © AHMAD AL-RUBAYE/AFP/Getty Images
With death toll exceeding 150, authorities must investigate security forces' response
Journalists and activists warned to 'keep silent' over the violence
'Brazen use of excessive and lethal force against protesters … must not be allowed to be swept under the carpet' - Lynn Maalouf
The Iraqi security forces' escalating use of excessive and deadly force against anti-government protesters must be properly investigated, said Amnesty International, after interviewing activists who witnessed protesters being killed by sniper fire.
Amnesty has spoken to eight activists, protesters and journalists from Baghdad, Najaf, and Diwaniya, all of whom described security forces using excessive force - including live ammunition - to disperse protesters. Amnesty further verified and geolocated audiovisual material depicting a pattern of shootings that are consistent with sniper fire, and the specific details of these attacks were corroborated with witness testimony from Baghdad. 
Meanwhile, Amnesty has gathered testimonies showing a sinister campaign of harassment, intimidation and arrests of peaceful activists, journalists and protesters by the authorities.
One protester from Baghdad described how a suspected sniper targeted a protester and then fired at others who tried to help him. He said: 
"There was a person who was hit by the sniper. Five people ran towards him to help and they were all shot one after the other. There were bodies all along the street. They all had shots in the head and chest."
Footage verified by Amnesty was consistent with the location and witnesses' description of the incident. Amnesty has not been able to verify the identity or affiliation of the snipers.
On 6 October, the Iraqi authorities blamed "anonymous snipers" for the killing of protesters, but witnesses said the sniper fire was coming from behind the line of security forces. In none of the reported cases of sniper fire are security forces known to have protected protesters, nor have police intervened and arrested anyone responsible for firing at demonstrations. 
One protester told Amnesty: 
"How can the government say they do not know who the sniper is? And if the forces did not know, once they realised that, why did they not warn the protesters? The forces were focused on making sure no one helped the injured."
In one area of Baghdad, protesters told Amnesty that security forces had prevented injured protesters from reaching nearby hospitals, arresting those who did make it to the hospital on the night of 2 October. Witnesses in Baghdad also described what they believed to be sniper fire at the protests between Thursday 3 October and Sunday 6 October. They also reported armed men shooting at protesters and driving towards them in an apparent attempt to run them over. Witnesses in Baghdad also described security forces surrounding protesters in the city's Za'faraniya district and opening fire on them. 
Lynn Maalouf, Amnesty International's Middle East Research Director, said: 
"The Iraqi authorities' brazen use of excessive and lethal force against protesters in Baghdad and elsewhere must not be allowed to be swept under the carpet. 

"The authorities must immediately and without any delay act on their promise to set up an investigation. 

"This promise is already ringing hollow as protesters continue to be harassed and threatened into silence, in addition to being hunted down and killed in the streets. They must commit to holding those found to be responsible for these crimes."
Journalists and activists targeted
Journalists and activists who spoke to Amnesty have also reported receiving threatening phone calls and indirect warnings from security forces telling them to "keep silent" and that their names have been added to "a list" compiled by intelligence services for "supporting" protesters. Journalists have been accused of reporting false information regarding the use of excessive force by security forces. One protester from Baghdad said: 
"Anybody who has used his phone to make a call, take or spread photos of violations during the protests is in danger."
Witnesses in Baghdad, Diwaniya and Najaf said security forces carried out hundreds of arbitrary arrests of protesters, often chasing them into side streets amid the chaos of people running away from tear gas and live ammunition. Meanwhile, access to the internet and social media was blocked yesterday evening after a temporary unblocking on Sunday night. Internet access was again unblocked briefly earlier today but has since remained restricted, while access to social media platforms remains blocked. 
Activists told Amnesty that they were calling for a change of government because they no longer believe any promises made by the current government, which they accuse of ignoring years of protests. One protester from Baghdad told Amnesty:
"We have been protesting since 2008 and nothing has changed. Now, we don't want political parties to represent or lead us in these protests because without them we are strong and credible. We have stood by the government against Daesh - when they were liberating areas, we supported them. We waited but what is the excuse now? They promise numbers, jobs, changes and all we get is the same: corruption and nepotism." 
On 6 and 9 October, in response to the protests, the Iraqi government made a number of promises - including over house building, social security payments for families in need, grants to unemployed citizens and economic support to tackle poverty, and well as compensation for families of those killed during the demonstrations.