Iraq: tribal militia carrying out revenge attacks in Mosul operation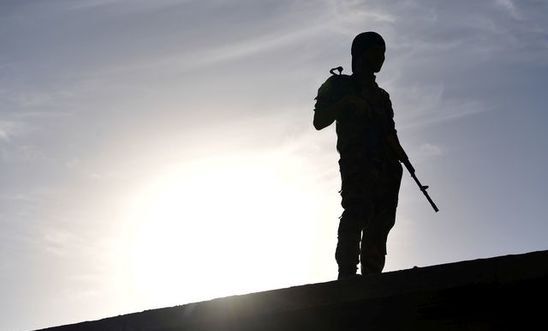 Powerful Iraqi militias have a record of carrying out revenge attacks © Carl Court/Getty Images
Men and boys in villages south-east of Mosul beaten, subjected to electric shocks and publicly humiliated
Some tied to car bonnets and driven though villages, while others placed in large poultry cages in public squares
Round-the clock arrests with some detained in a school and abandoned homes 
Militia fighters from the Sab'awi tribe have unlawfully detained, publicly humiliated and tortured or otherwise ill-treated men and boys in villages south-east of Mosul recaptured from the Islamic State armed group in recent days, said Amnesty International. 
Amnesty's researchers in Iraq interviewed local officials and eyewitnesses - including local villagers - who described how members of the Sab'awi Tribal Mobilisation militia (Hashd al-'Ashairi) have carried out punitive revenge attacks. Residents suspected of having ties to ISIS were beaten with metal rods and subjected to electric shocks. Some were tied to the bonnets of vehicles and paraded through the streets or placed in cages.
The violations took place in al-Makuk, Tal al-Sha'eir, and Douizat al-Sufla - a group of villages located on the south-eastern bank of the river Tigris known as Qati' al-Sab'awiin (Sector of the Sab'awi tribe). Some residents told Amnesty that they believe that the tribal militia were motivated by revenge for relatives killed by ISIS, as well as longstanding enmities unrelated to the conflict.   
One of the affected villages, al-Makuk, was retaken by Iraqi forces on 20 October. Eyewitnesses told Amnesty that fighters from the Sab'awi tribe entered the village before the Iraqi army arrived but after ISIS fighters had retreated, so no armed confrontations took place. According to residents, the tribal militia fighters - who belong to the same tribe as the villagers - started rounding up men and older boys as soon as they arrived.
One witness described how six militia members dragged "Ahmed" (whose name has been changed to protect his identity) into the courtyard of his house and accused his brother of being a Daeshi (Arabic term for an ISIS-affiliated person) before brutally beating him in front of his wife and children. The witness said:
"They kicked him to the ground and 'tasered' him three times. They punched him and beat him with the back of their Kalashnikovs, with metal rods, and even a rubber hose - the thick ones used for agriculture."

 
"Ahmed" was unable to stand after the beating. Two other witnesses said:
"They had no commanders. Every fighter from the Hashd had his own personal revenge to take ... They drove around the village with men strapped onto car bonnets shouting things like 'come see the Daeshi who informed on me and my father'."
One woman said she saw militia members parading an ISIS suspect - who was believed to have been involved in an attempted bomb attack on a government official's home - through the village on the bonnet of their vehicle.  "They called for everyone to come out and see the Daeshi … His face was bloody … I was too scared to look at his face'."
Another witness, interviewed separately, corroborated the incident. He explained that militia men, accompanied by the security guards of the official who had been the target of the attack, beat the man on his face with cables. 
All the witnesses interviewed also described a disturbing scene in which seven men and boys - between the ages of 16 and 25 - were placed in large poultry cages on display in the middle of a public roundabout. A Tribal Mobilisation fighter asked each to walk out of the cage in turn saying to them: "What are you? Say you're an animal, say you're a donkey", before beating them and forcing them into cars. Witnesses also said that on 21 October, Tribal Mobilisation members gathered dozens of men and older boys in a public square in al-Makuk and spent two hours calling out the names of the 'wanted'. At least 14 boys and men whose names were called had their hands bound and were taken away. Witnesses said that arrests by militia fighters were being carried out around the clock, even after a large convoy of Iraqi armed forces from the Ninewa Operations Command arrived on 22 October. 
Some of those seized were held in a school in Sidawa, one of the villages in the Qati' al-Sab'awiin, along with men and boys from other nearby villages. A group of detainees was handed over to the Iraqi armed forces on 30 October, bearing marks of torture, according to witnesses. Others are believed to still be held by the Tribal Mobilisation fighters in unofficial detention facilities, including abandoned homes in villages in the Qita' al-Sab'awiin.
Lynn Maalouf, Research Deputy Director at Amnesty International's Beirut regional office, said:
"The Iraqi authorities have repeatedly failed to stop revenge attacks or investigate crimes by militias from the Popular Mobilisation Units, who are also participating in the Mosul offensive. This has fostered a dangerous culture of impunity in which perpetrators of such attacks feel they have free rein to commit crimes and go unpunished.

 

"Only those legally sanctioned to detain and interrogate suspects must be allowed to do so. All detainees must be treated humanely and must be protected from torture and other ill-treatment. 

 

"The authorities must rein in the tribal militia fighters responsible and bring them to justice in order to prevent such crimes being repeated in the ongoing Mosul offensive. Those suspected of committing crimes must be removed from duty without delay."
Amnesty has also received accounts of abuses carried out by the Firsan Jbour tribal militias targeting villagers from the al-Shora sub-district, south of Mosul. Witnesses told Amnesty that on 26 October militia fighters at checkpoints taunted them for belonging to Daesh, spat and threw rocks at them and threatened to kill or detain those with ISIS links as they were being transported to safer areas by Iraqi forces.  "They tried to grab us from the trucks. A few shouted that we should all be taken to be executed," said one 17-year-old boy. 
Tribal mobilisation militias
Tribal Mobilisation militias, composed of fighters from Sunni tribes have played an increasing role in the fight against ISIS and in securing their areas after they have been recaptured. While much less powerful than the Popular Mobilisation Units, which are predominantly Shi'a militias, some tribes within the Tribal Mobilisation have also received support from government authorities. Amnesty has previously documented war crimes and human rights violations including abductions, extrajudicial executions and other unlawful killings, torture and destruction of homes carried out by the Popular Mobilisation Units.