Iraq: internet cut to stop protesters posting images of security force attacks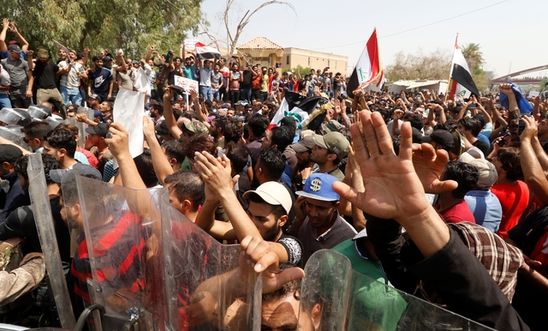 Protester in Basra province earlier this week © Getty Images
Disabling of internet in south of country occurred shortly before security forces used live ammunition and tear gas against people protesting about unemployment
'They cut off the internet so they can beat us' - protester in al-Zubeir
Amnesty International has learned that the Iraqi authorities have disabled internet access shortly before the security forces have attacked - and in some cases killed - people protesting over unemployment and inadequate government services across the south of the country.
In the past week, witnesses in Basra governorate have reported to Amnesty that security forces have been using tear gas and live ammunition against peaceful protesters. At least eight people are reported to have died in the protests so far, according to the Iraqi Health Ministry. Witnesses also reported peaceful protesters being beaten with batons, cables and plastic hoses in violent attempts to disperse them. 
Trusted sources have told Amnesty they believe internet access is being deliberately cut off to prevent protesters and human rights activists from sharing images of the excessive force being used by security forces. One source in Baghdad told Amnesty: 
"When there is no internet, people are being beaten and killed because we can't upload it. Iraqis now know the value of social media. We need it to raise our voice."
Protests in Iraq erupted on Sunday 8 July and the internet was cut late at night on Thursday 12 July. Although access was mostly restored on Monday, the signal reportedly remains weak across the country and several social media platforms remain blocked. 
 
One 21-year-old man from al-Zubeir, to the west of Basra city, told Amnesty he joined a demonstration last Sunday to protest against a lack of job opportunities in the area. He said a member of the Iraqi SWAT (Special Weapons and Tactics) forces confronted the protesters and started firing at them before chasing and beating them. He said:
"They wanted to beat everyone and left no-one without injury. One person was shot in the leg and I saw one person bleeding from his eye. As we retreated, one of them [SWAT] grabbed me and one beat me. When I struggled away, he threw the baton at me and broke my arm. They cut off the internet so they can beat us."
Another human rights activist in Baghdad said: 
"This is now about more than water and electricity - they are breaking us. They are insulting us. Is there anything worse than being taken, beaten and broken, and thrown on the street? We did not call for violence. We are peaceful."
The Iraqi Ministry of Defence has reported that some 274 security force members have been wounded in the protests.
Lynn Maalouf, Amnesty International's Middle East and North Africa Deputy Director, said: 
"Deliberately disabling the internet is a sinister restriction to the right to freedom of expression and strongly indicates that the authorities have something to hide. 

"We are closely monitoring the escalating situation across southern Iraq and are extremely worried by reports that security forces are beating, arbitrarily detaining and even opening fire on peaceful protesters.

"The Iraqi authorities must immediately put an end to the torture and other ill-treatment that has included beatings, harassment and intimidation of peaceful protesters by security forces and carry out prompt, independent and impartial investigations to bring all those responsible to justice."
Arrested and tortured
According to information obtained by Amnesty, two protesters in Baghdad were arrested by armed men in civilian clothes - who said "We are from the authorities" - at around 8pm as they were leaving demonstrations in the city centre. The pair were dragged into a car before being blindfolded and taken to an unknown location. Later, they were beaten, Tasered and interrogated about those who had organised the protests and asked if they belonged to extremist groups. They were later forced to sign papers without being told what they contained, and then released.