Iraq: 40 people sentenced to death taking to 92 those condemned in 2016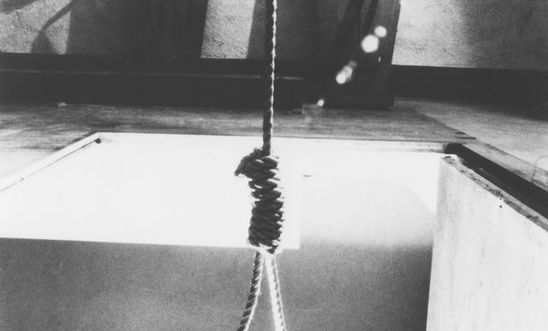 Those condemned to hang have typically received a grossly unfair trial © Amnesty International
'For Iraqi courts to hand down 92 death sentences in just six weeks is a grim indicator of the current state of justice in the country' - James Lynch
Forty people have been sentenced to death in Iraq today in a mass sentencing which takes the number of death sentences handed down by Iraqi courts so far this year to 92. 
Today's 40 death sentences came after a fundamentally flawed mass trial involving 47 individuals accused of involvement in the Speicher massacre, in which at least 1,700 military cadets from Speicher Military camp, near Tikrit, were killed by members of the Islamic State armed group in June 2014. 
Iraq's Federal Judicial Authority confirmed that 40 people were sentenced to death under the 2005 anti-terrorism law and seven were released due to lack of evidence. Iraq's courts have imposed at least 52 other death sentences since 1 January.
Ahead of the high-profile Speicher massacre trial, over 600 arrest warrants were issued by the Iraqi authorities and the Central Criminal Court of Iraq went on to announce that it would consolidate all cases relating to Speicher crimes into one case, opening the door to mass trials. In July 2014, 24 men were sentenced to death by hanging in connection with the massacre. 
Before a death sentence can be carried out in Iraq, the president must ratify it and President Fuad Ma'sum has come under significant pressure from Iraqi MPs and the public to do so, particularly following the Speicher massacre. Former President Jalal Talabani had refused to ratify any death sentences, leading to a backlog of more than 600 cases and a Special Committee was set up in the Presidency Office to manage the backlog. Many of those sentenced to death have been subject to grossly unfair trials, and last July Amnesty called on Fuad Ma'sum to halt any ratification of death sentences. 
Amnesty is calling on the Iraqi authorities to immediately establish an official moratorium on executions with a view to abolishing the death penalty entirely.
Amnesty International Middle East and North Africa Deputy Director James Lynch said: 
"For Iraqi courts to hand down 92 death sentences in just six weeks is a grim indicator of the current state of justice in the country.

 

"The vast majority of the trials have been grossly unfair, with many of the defendants claiming to have been tortured into 'confessing' the crimes. These allegations must be urgently investigated and a re-trial that meets international fair trial standards should be ordered."