Iran: sharp rise in arrests of journalists - new briefing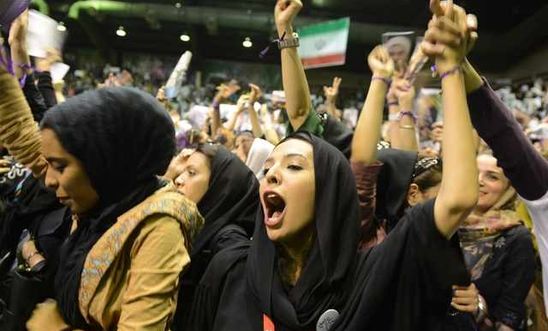 Hopes of reform since last years elections have faded © Kaveh Kazemi/Getty Images
New climate of fear where voicing any criticism has become 'a direct road to prison' - Hassiba Hadj Sahraoui
There has been a sharp rise in arrests, prosecutions and imprisonment of journalists in Iran, said Amnesty International today (1 August), with the crackdown appearing to crush any hopes of increased freedom since the election of President Hassan Rouhani. 
Under the crackdown both Iranian journalists and foreign correspondents have faced renewed harassment, intimidation, arrest and imprisonment. Other media workers, such as filmmakers, have also faced judicial bans preventing them from carrying out their work.   
Many of those arrested have been charged under notorious provisions of the Islamic Penal Code which includes "crimes" such as "spreading lies", "spreading propaganda against the system", and "creating unease in the public mind" - in effect criminalising a wide range of peaceful activities. The authorities have also used protracted prosecutions and unserved prison sentences as threats against journalists who have dared to criticise therm.
Recent examples include Jason Rezaian, the Washington Post's Iran correspondent, a dual Iranian-American national, and his wife, Yeganeh Salehi, a journalist for the UAE newspaper The National, who were both arrested in Tehran on 22 July. Three days later the Head of Tehran's Judiciary confirmed the arrests, saying that further information will only be provided upon the completion of "technical investigations and interrogations". The whereabouts of both journalists remains unknown. 
In another recent case, Saba Azarpeik, a journalist working for a number of reformist publications in Tehran, was arrested on 28 May and is also being held in an undisclosed location. She was brought before Branch 26 of the Revolutionary Court in Tehran on 21 and 22 July to face charges of "spreading propaganda against the system" and "spreading lies" linked to her previous arrest in January 2013. 
Meanwhile, in another case, the journalist and member of the Participation Front political party Hossein Nourani Nejad, is facing six years in jail after a Revolutionary Court in Tehran in June sentenced him for "spreading propaganda against the system" and "gathering and colluding against national security". He had been arrested on 21 April and taken to solitary confinement in Tehran's Evin Prison. Two months previously Nejad had returned to Iran from Australia - where he was a postgraduate student - to see his new-born child for the first time. 
Last weekend, another journalist, Serajeddin Mirdamadi, was also sentenced to six years in jail on charges of "colluding against national security" and "spreading propaganda against the system". 
Amnesty International Middle East and North Africa Deputy Director Hassiba Hadj Sahraoui said:
"Anyone deemed critical of the authorities has been at increased risk of arrest and prosecution in recent months, creating an intense climate of fear where voicing any criticism has become a direct road to prison.

 

"The authorities' zero-tolerance for anything other than state-sanctioned ideas and voices means that merely reporting the news can put people at risk of incarceration.

 

"Independent journalism is not a crime. The authorities in Iran must immediately and unconditionally release all those who have been arrested and imprisoned in recent months only for peacefully exercising their legitimate right to freedom of expression, association and assembly."