Iran: anti-death penalty campaigner's 'cruel' 16-year jail sentence confirmed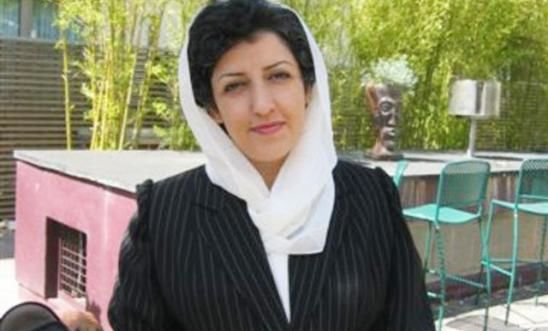 Narges Mohammadi's 16-year jail sentence is partly a punishment for meeting an EU official © Amnesty International
Narges Mohammadi is vice president of Centre for Human Rights Defenders, founded by Nobel Peace Prize winner Shirin Ebadi
A 2014 meeting with EU's Catherine Ashton formed part of 'evidence' against her
In response to news that a 16-year prison sentence against prominent human rights activist Narges Mohammadi, who is critically ill, has been upheld on appeal, Amnesty International's Middle East and North Africa Research and Advocacy Director, Philip Luther, said: 
"This verdict is yet another cruel and devastating blow to human rights in Iran, which demonstrates the authorities' utter contempt for justice. 

 

"Narges Mohammadi is a prominent advocate of human rights and a prisoner of conscience. She should be lauded for her courage not locked in a prison cell for 16 years. 

 

"It is particularly shocking that this sentence comes as Iran's authorities are preparing for renewed bilateral dialogue with the EU, given that Narges Mohammadi was convicted for her work campaigning against the death penalty and meeting with the former EU High Representative for Foreign Affairs.

 

"Narges Mohammadi's conviction and sentence must be quashed and the authorities must order her immediate and unconditional release."
Punished for opposing the death penalty
Mohammadi is a leading supporter of the Iranian anti-death penalty campaign Legam (Step by Step to Abolish the Death Penalty) and vice president of the Centre for Human Rights Defenders in Iran, founded by the by Nobel Peace Prize winner Shirin Ebadi. Mohammadi was originally sentenced by a Revolutionary Court in Tehran which convicted her of several trumped-up national security-related offences in connection with her human rights work. The verdict was communicated to her lawyer on 17 May. Mohammadi received a ten-year sentence for "founding an illegal group" over her involvement with Legam, and a five-year sentence for "gathering and colluding to commit crimes against national security" - with one additional year for "spreading propaganda against the system". The court used as "evidence" against her interviews she gave to international media and her meeting in March 2014 with the European Union's then High Representative for Foreign Affairs and Security Policy, Catherine Ashton.
The authorities have also denied Mohammadi the right to have access to her children. Her nine-year-old twins had to move abroad to live with their father as there was no one to look after them in Iran. She has only been allowed to have one phone call with her children since last summer. In October 2015, she suffered several seizures which eventually prompted the authorities to allow her to be hospitalised. Her treatment was however disrupted as she was returned to prison against her doctor's advice after 17 days. For more background, including on her medical condition, go
here
.