Iran: already-jailed and critically-ill human rights activist gets another 16-year sentence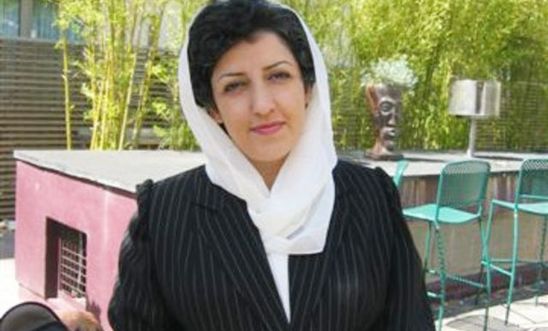 Narges Mohammadi has suffered years of persecution by the Iranian authorities © Amnesty International
Narges Mohammadi is vice president of Centre for Human Rights Defenders, founded by Nobel Peace Prize winner Shirin Ebadi
Already jailed, Narges Mohammadi has been prevented from seeing twin nine-year-old daughters
'Narges Mohammadi is a prisoner of conscience' - Philip Luther
Amnesty International has condemned a lengthy prison sentence given to the prominent - and already-jailed - Iranian human rights activist Narges Mohammadi after her conviction on several trumped-up national security-related offences related to her human rights work. 
Mohammadi, vice president of the Centre for Human Rights Defenders (founded by the Nobel Peace Prize winner Shirin Ebadi) and a supporter of the Iranian anti-death penalty campaign Legam, was sentenced to 16 years by a Revolutionary Court in Tehran. The verdict was communicated to her lawyer on Tuesday. 
Mohammadi received a ten-year sentence for "founding an illegal group" over her involvement with Legam, and a five-year sentence for "gathering and colluding to commit crimes against national security" - with one additional year for "spreading propaganda against the system". The court used as "evidence" against her interviews she gave to international media and her meeting in March 2014 with the European Union's then High Representative for Foreign Affairs and Security Policy, Catherine Ashton.
If her conviction and sentence are upheld, Mohammadi will have to serve at least ten years on the most serious charge, with Iran's penal code stipulating that those convicted of multiple charges serve the lengthiest single sentence.
Amnesty International Middle East and North Africa Director Philip Luther said:
"Narges Mohammadi's sentence is yet another chilling example of Iran's use of vaguely- worded national security charges to crack down on peaceful freedom of expression. 

 

"There's no doubt that she's being unjustly punished for her steadfast commitment to human rights. The authorities have made clear their ruthless determination to silence human rights defenders and instil fear in would-be critics of their policies.

 

"Narges Mohammadi is a prisoner of conscience and the Iranian authorities should immediately and unconditionally release her and quash her conviction."
Twin nine-year-old daughters 'emotionally scarred' by years of harassment
Mohammadi's latest sentence comes after years of harassment punctuated by intermittent periods in detention, inflicting a devastating toll on her health and emotionally scarring her two young children. She is critically ill, suffering from a pulmonary embolism (a blood clot in her lungs) and a neurological disorder that has resulted in seizures and temporary partial paralysis. She requires ongoing specialised medical care, which she cannot receive in prison. 
The Iranian authorities have denied Mohammadi the right to have access to her children, and her nine-year-old twins have had to move abroad to live with their father as there was no-one to look after them in Iran. She has been allowed only one phone call with her children since last summer. 
Mohammadi's husband Taghi Rahmani told Amnesty: 
"I am left wondering how to tell Ali and Kiana, who have only heard Narges's voice once over the past year, that their mother has got another ten years in prison. They are only nine and have been through hard days since they were three. But I have to prepare myself to tell them what has happened."
Already jailed on other charges
Mohammadi is already serving a six-year prison sentence for "gathering and colluding to commit crimes against national security" and "spreading propaganda against the system" through her human rights activism. She began serving this prison term in April 2012 but was released three months later on medical grounds to receive treatment for a health condition that caused partial paralysis, which was exacerbated by her imprisonment. She was arrested again in May 2015 and taken to Tehran's Evin Prison to resume serving her sentence. Last October she suffered several seizures which eventually prompted the authorities to allow her to be hospitalised. Her treatment was, however, disrupted as she was returned to prison against her doctor's advice after 17 days. Meanwhile, she also faces another separate charge of "insulting officers while being transferred to a hospital" in a separate case after she complained about her inhumane treatment by prison guards.