Indian PM Modi must press for civilian protection in Rakhine during Burma visit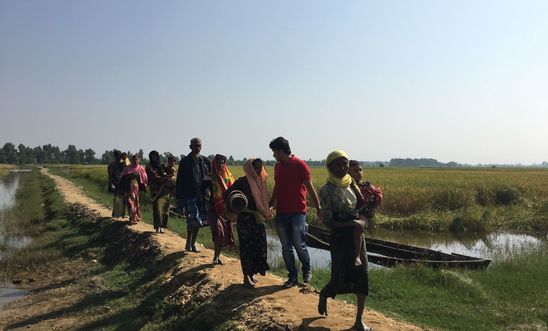 The Indian Prime Minister Narendra Modi should use his official visit to Burma today to urge the authorities to protect civilians in violence-hit Rakhine State and lift restrictions on international humanitarian aid to Rakhine, Amnesty International said.
Thousands of people, mainly from the Rohingya ethnic group, are already suffering horrific abuses from a devastating military campaign in Rakhine. Yesterday, Amnesty warned that the authorities blocking aid into Rakhine was endangering the lives of thousands of people.
Aakar Patel, Executive Director at Amnesty International India, said:
"Prime Minister Modi needs to tell Burma's leadership that they are not doing enough to protect all communities in the State, whether it is stopping military abuses targeting the Rohingya or restricting crucial humanitarian access for people in need.

"As a historic friend of Burma, India can play an important role in defusing tensions and saving civilian lives. Prime Minister Modi must urge the Burmese authorities to address the long-standing and systematic discrimination against Rohingya and other Muslims in Rakhine, which has left people trapped in a cycle of violence and deprivation.

"Prime Minister Modi must also use his visit to push the Burmese authorities to allow full and unfettered humanitarian assistance to people in need. Nothing can justify denying life-saving aid to desperate people."
Latest UN figures estimate that almost 90,000 Rohingya refugees have fled to Bangladesh while the Burmese authorities have evacuated more than 11,000 people belonging to other ethnic minority communities living in northern Rakhine.
Violence broke out in Rakhine after attacks on dozens of security posts by a Rohingya armed group on 25 August. The Burmese military's response to the attacks has been completely disproportionate, with reports of serious human rights violations emerging from the region.
Aakar Patel said:
"The Burmese government has a duty to investigate the August attacks and bring those responsible to justice. However, the attacks cannot be used as an excuse to give the military a blank cheque to commit atrocities against sections of the population.

"All sides must show the utmost restraint and ensure that ordinary people are protected from human rights violations and abuses. The security forces must make every effort to distinguish between members of the armed group and ordinary people."
Rohingya refugees in India
Rajnath Singh, India's Minister of State for Home Affairs, has said that his government considers all Rohingya refugees and asylum-seekers in India to be illegal immigrants. The Ministry of Home Affairs has asked state governments to identify and deport "illegal immigrants from Rakhine State".
Aakar Patel said:
"Prime Minister Modi should also reaffirm his own government's commitment to protect Rohingya refugees and asylum-seekers in India who have been recently threatened with deportation. Given the risks that the Rohingya face in Burma, forcibly returning them would be unconscionable."