India: Supreme Court's decriminalising of gay sex represents 'new era of equality'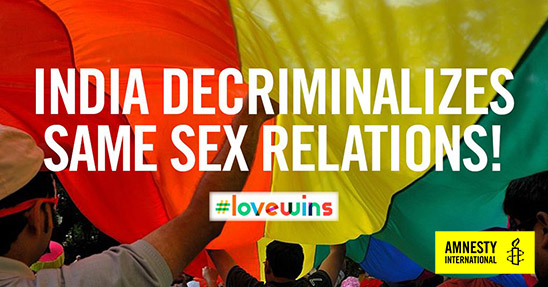 Ruling is culmination of decades of struggle against notorious Section 377, relic of British colonial rule
'As Dr Martin Luther King Jr said, "the arc of the moral universe is long, but it bends toward justice"' - Asmita Basu
Amnesty International has strongly welcomed a landmark ruling by India's Supreme Court today decriminalising consensual same-sex relations.
Responding to the ruling, Asmita Basu, Amnesty International India's Programmes Director, said:
"It marks a new era of equality for millions of people in India. 

"The remarkable victory today is a milestone in the three-decades-old struggle by the LGBTI community and their allies in India.

"As Dr Martin Luther King Jr said, 'the arc of the moral universe is long, but it bends toward justice'. 

"Section 377 as it stood, violated basic human rights standards on equality, privacy and dignity. 

"While today's judgement answers the constitutional invalidity of Section 377, the struggle for the rights of LGBTI people continues, including in relation to marriage, adoption or inheritance."
Amnesty said the ruling sends a message of hope not only to lesbian, gay, bisexual, transgender and intersex people, but to everyone fighting for justice and equality.
Long fight against Section 377, relic of British rule
Earlier today, a five-judge bench of the Supreme Court decriminalised consensual same-sex relations between adults. The court's unanimous verdict has upheld the right to equality, privacy, dignity and freedom of expression of all people regardless of their sexual orientation. The court added that any discrimination on basis of sexual orientation is a violation of fundamental rights guaranteed by the Indian Constitution.
Section 377 of the Indian Penal Code - criminalising "carnal intercourse against the order of nature"- is a 157-year-old law dating from the time of British colonial rule. 
In the early 1990s, human rights groups began a campaign to repeal Section 377. In a historic judgement in 2009, the Delhi High Court ruled that the outlawing of consensual adult same-sex relations violates basic human rights.  The case challenging the constitutionality of Section 377 was initially brought by the Naz Foundation, an organisation working on sexual health issues. However, in 2013 the Supreme Court overruled the lower court, saying that repeal was a matter for parliament and not the judiciary.