India: Minister's claim to have ordered torture must be investigated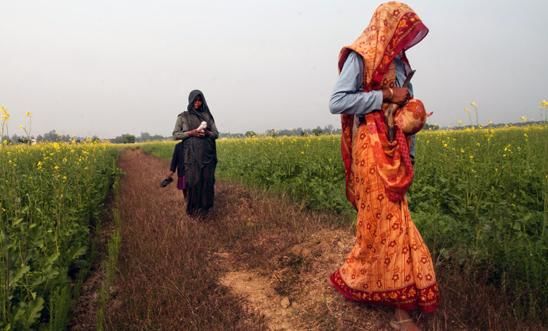 Authorities in the Indian state of Madhya Pradesh must investigate a minister's statement that she had ordered rape suspects to be tortured, Amnesty International said today.
Last week, Uma Bharti, water resources minister, said she had ordered three men to be tortured after they were accused of rape when she was chief minister of the state.
On 10 February, at an election rally in Agra, Uttar Pradesh, Ms Bharti criticised the state government in relation to a case where three men suspected of rape were recently released on bail.
She said:
"People who have committed such crimes should be hung upside down in front of their victims and beaten till their skin comes off. Salt and chillies should be rubbed on their wounds, so that they suffer, and their suffering should be seen by their victims, those mothers and sisters. They should suffer, and they should beg for their lives.

"I had made this happen as chief minister (from December 2003 to August 2004), when a woman was raped. I had made it happen. When a police official said that this is a violation of human rights, I said that demons don't have human rights.

"And I had ordered that those women be allowed to see what is happening through a window. I told the police to hang the men upside down and beat them so much that when their screams were heard by the women, then the women would get closure."
Aakar Patel, Executive Director of Amnesty International India, said:
"Uma Bharti appears to believe that she is above the law, and that her claims show her resolve to fight violence against women. But her statements are both misguided and dangerous.

"Politicians cannot decide that certain people do not have human rights. Torture is always a crime, and is never justified.

"The Madhya Pradesh authorities have a duty to investigate Uma Bharti's statements. If they find sufficient admissible evidence that the events she described have occurred, they must prosecute her and any other officials involved.

"Impunity for rape and other violence against women is a serious issue in India, and perpetrators deserve to be punished – but this must be done within the rule of law."
Ms Bharti subsequently said in a letter to the Indian Express newspaper: "I will not reveal the names of policemen who acted on my instructions. I will be ready to face consequences and if I get a chance in future will again do so…I don't feel any compassion for those who harass girls and rape girls and women because I don't consider them human beings. Hence, they don't have any human rights…The matter is so serious and expansive that I want the debate on it to be stopped till March 11 (the date when results of state elections will be announced)."
Torture and other ill-treatment in police custody are widespread in India, but are rarely punished. While torture is not specifically recognised as a crime under Indian law, the country's Supreme Court has ruled that torture and other ill-treatment violate constitutional rights to life and personal liberty.
The absolute prohibition of torture and other ill-treatment is a rule of customary international law, which is binding on all nations. Torture also violates the International Covenant on Civil and Political Rights, to which India is a state party. India has also signed the UN Convention Against Torture and Other Cruel, Inhuman or Degrading Treatment or Punishment, and has repeatedly committed to ratifying it. It has an obligation to conduct a prompt, thorough and impartial investigation when there is reason to believe that torture or other ill-treatment may have been inflicted.