India: Expulsion of seven Rohingya men to Myanmar 'a dark day for human rights'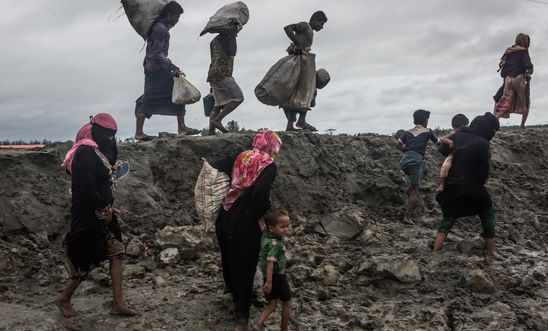 File picture shows Rohingya fleeing Myanmar
Seven Rohingya men were forcibly returned to Myanmar by the Indian government today, putting them at grave risk of being subjected to serious human rights violations, said Amnesty International India.
The seven men were named as Mohammad Jalal, Mokbul Khan, Jalal Uddin, Mohammad Youns, Sabbir Ahamed, Rahim Uddin and Mohammad Salam.
Aakar Patel, Amnesty India's Executive Director, said:
"Today's decision by the Supreme Court marks a dark day for human rights in India.

"This decision negates India's proud tradition of providing refuge to those fleeing serious human rights violations. It endangers the most persecuted population in the world and is bereft of any empathy.

"The Indian government has conducted a relentless smear campaign against the Rohingya community in India for over two years now. This decision sets a dangerous precedent for all asylum-seekers and refugees in India."
There was a glimmer of hope for the seven men when a petition was filed in the Supreme Court to stop their forcible return earlier today. Unfortunately, the three-judge bench headed by newly-appointed Chief Justice Ranjan Gogoi rejected the plea.
The petitioners had requested the Court to allow the United Nations High Commissioner for Refugees access to the men to ascertain whether they needed protection under refugee law, but this was not allowed. The seven were earlier found to be 'illegal immigrants' under the much-abused Foreigners Act 1946.
In June this year, Amnesty published a report detailing extensive, credible evidence implicating Myanmar's military Commander-in-Chief, Senior General Min Aung Hlaing, and 12 other named individuals, in crimes against humanity committed during the ethnic cleansing of the Rohingya population in Rakhine State. The culmination of nine months of intensive research, the report is Amnesty's most comprehensive account yet of how the Myanmar military forced more than 700,000 women, men and children – more than 80% of northern Rakhine State's Rohingya population when the crisis started – to flee to Bangladesh and other countries after 25 August 2017.