India: Court ruling preventing Amnesty board chair from travelling abroad is 'outrageous'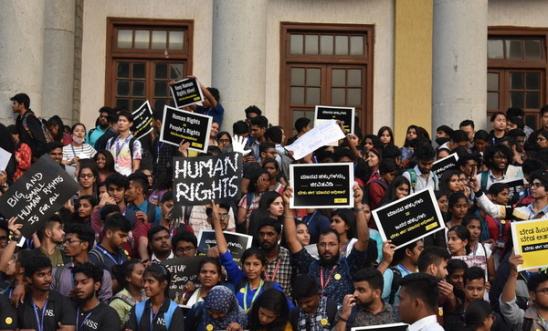 March for human rights in Bangalore - 2018 © Amnesty India
Delhi court reverses ruling and bars Aakar Patel from leaving the country without permission
'This is part of the wider crackdown and repression of civil society in India that we have seen over recent years' – Kyle Ward
Responding to the Delhi Court order this morning barring Amnesty International India's Board chair, Aakar Patel, from leaving the country without prior permission, Amnesty International's Deputy Secretary General, Kyle Ward, said:
"The continued denial of Aakar Patel's right to freedom of movement and freedom of expression is outrageous.

"The criminalisation of activists and human rights defenders for making 'a lot of noise' and criticising the authorities must stop. The Indian authorities must immediately revoke the travel ban on Aakar Patel.

"Peaceful dissent should be protected and not muzzled. This is part of the wider crackdown and repression of civil society in India that we have seen over recent years.

"Amnesty once again calls on the Indian authorities to respect, protect, promote and fulfil the human rights of all human rights defenders and civil society organisations.

"Those working to promote the human rights of other people must be allowed to carry out their activities without any hindrance or fear of reprisals."
Timeline of events
On 6 April, immigration authorities prevented Aakar Patel, Amnesty International India's Board chair, from leaving the country, based on the 'Look Out Circular' issued by the Central Bureau of Investigation (CBI). He was travelling to attend speaking engagements organised by several US universities on the attacks on civil society in India.
On 7 April, a Delhi court order directed the Central Bureau of Investigation to withdraw the Look Out Circular against Aakar Patel and issue him a written apology. Despite this, immigration authorities prevented him again from travelling out of the country.
On 8 April, interim relief was granted to the CBI which had sought revision of the Delhi Court order and the Delhi Court ordered Aakar Patel not to leave country without prior permission.