Hong Kong: Water cannons a danger in hands of 'trigger-happy' police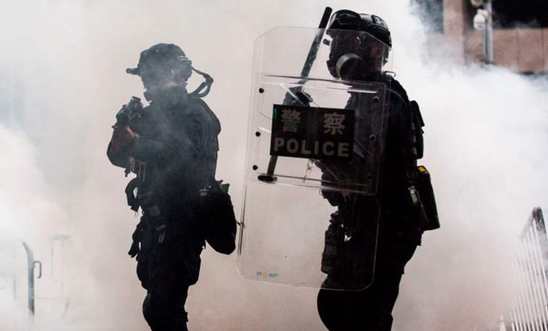 Police in Hong Kong have fired rubber bullets and used tear gas in recent weeks.
Hong Kong police must exercise extreme caution in any deployment of water cannons in upcoming protests, Amnesty International said today, warning that using the powerful weapons in the city's densely-populated streets could cause serious injuries.
In recent weeks, Hong Kong police have repeatedly used tear gas, rubber bullets and sponge grenades in an excessive and unlawful way during public protests against the territory's controversial Extradition Bill. Water cannons are expected to be ready for use in Hong Kong by mid-August.
Man-Kei Tam, Amnesty International Hong Kong Director, said:
"Water cannons are not a toy for the Hong Kong police to deploy as a sign of strength. These are powerful weapons that are inherently indiscriminate and have the potential of causing serious injury and even death.

"This equipment can knock a person over, push them into fixed objects, cause permanent loss of sight, or pick up loose objects and propel them as missiles. In Hong Kong's crowded streets, their deployment could be a recipe for disaster.

"Since protests erupted in Hong Kong two months ago, the city's police have repeatedly used tear gas and rubber bullets in a way which falls far short of international standards. This trigger-happy approach raises questions as to whether police officers can use water cannons in a way that doesn't put people at risk of serious injury.

"We urge the Hong Kong police to exercise the utmost restraint when deciding whether to deploy water cannons. This powerful policing weapon should only be used in a proportionate manner when the level of violence is such that it cannot be contained by directly targeting individuals involved in violent acts."
Use of dye and chemical irritants
Hong Kong police have recently been testing three anti-riot vehicles armed with water cannons, which cost approximately £1.7million each. The tests have included using a dye in the liquid mixture, to mark individuals for later identification. If dye is used, it can lead to unwarranted harassment or detention after the event. The water can also have other additives - including a range of chemical irritants - added, which makes it impossible to deliver an appropriate, targeted dose of the irritant.
Man-Kei Tam said:
"The use of water cannons with irritants and dye in compact residential areas poses a threat to freedom of expression and peaceful assembly. As well as the risks of serious injury, the use of dye means large numbers of people - including peaceful protesters, journalists and local residents - could be indiscriminately marked. This raises human rights concerns as to what will happen to those marked once the crowd is dispersed."
Use of tear gas and rubber bullets
As of 6 August, police in Hong Kong said they had fired 1,800 rounds of tear gas, 300 rubber bullets and 170 sponge grenades since the protests began on 9 June. On 5 August, when a general strike took place, police fired 800 rounds of tear gas across eight districts of the city to disperse protesters.
Meanwhile, more than 600 people have been arrested, with 44 people charged with "rioting", which carries a maximum prison sentence of 10 years. Hong Kong laws on "unlawful assembly" and "rioting" fall far short of international standards.
Clashes between police and protesters have become a frequent occurrence, with projectiles including bricks, glass and petrol bombs hurled at police and police stations. However, the police response has seemingly only escalated the tension.
Police have fired tear gas in densely built-up residential areas, with tear gas seeping into homes, including nursing homes for the elderly. Hospital records show the youngest patient was a one-year-old baby, who was taken to emergency care after being affected by tear gas at home in Wong Tai Sun on Monday.  
Riot police have also charged at peaceful protesters, journalists and local residents, and used tear gas and rubber bullets without giving clear warnings. Police have continued to fire tear gas on retreating protesters, leaving people no time and often no path to safely disperse. Rubber bullets have been fired despite poor visibility due to tear gas smoke, as well as shots aimed at the heads and spines of protesters, journalists and human rights' observers.
Man-Kei Tam said:
"Law enforcement officials must be able to carry out their duty to protect the public. However, violence directed at police does not give officers a green light to respond with excessive force.  Police need to avoid tactics that exacerbates violence and instead shift to an approach that deescalates the situation."
Use of water cannons
Amnesty recommends the following if water cannons are deployed:
·           Law enforcement officials should exercise the greatest possible restraint, and resort to force only when strictly necessary.
·           Water cannons should only be used under strictly-defined circumstances and only when its use is lawful, necessary, and proportionate for the legitimate law enforcement objective.
·           They should only be used when the level of violence has reached such a degree that law enforcement officials cannot contain the threat by directly targeting violent persons only.
·           They should never target individuals at short range, and never target the head.
·           They should never be used against individuals already under restraint or unable to move.
·           They should never be used in confined spaces or areas where the assembly can't disperse, such as dead-end streets, malls, train stations and stadiums.
·           Adequate dispersal or exit routes must be available, and warning must be given to the participants in the assembly before water cannons are used.