Hong Kong: 'Vile attack' on pro-democracy protest organiser must be investigated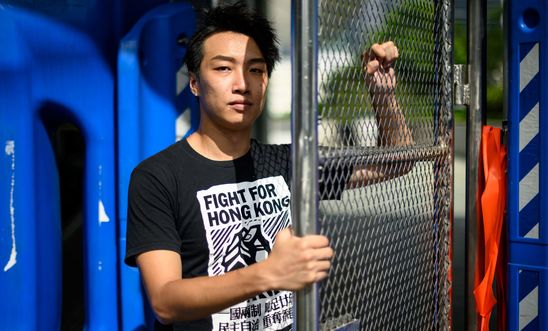 © © ANTHONY WALLACE/AFP/Getty Images
Responding to an attack in Hong Kong today on Jimmy Sham, the convenor of the Civil Human Rights Front, by masked men wielding baseball bats, Man-kei Tam, Director of Amnesty International Hong Kong, said:
"This vile attack against Jimmy Sham appears to be a deliberate attempt to target a well-known pro-democracy activist.

"On top of terrifying physical threats, Jimmy Sham also faced homophobic abuse. The Hong Kong police must launch a swift and proper investigation into these despicable events.

"The repeated harassment of pro-democracy activists, combined with police bans on demonstrations, has created a climate of fear for peaceful protesters. It is vital that the authorities send a clear message that those who target peaceful activists with such violence, irrespective of their political views, will face justice."
Civil Human Rights Front
Jimmy Sham is the convenor of the Civil Human Rights Front (CHRF), the organiser of a series of massive peaceful protests in Hong Kong against the Extradition Bill. He and a friend were attacked on earlier today by two masked men with a baseball bat and a long knife. Jimmy Sham was not hurt but his friend required hospital treatment for an arm injury.
Approximately a dozen pro-government protesters also demonstrated outside an LGBTI organization where Jimmy Sham works. Some of them shouted homophobic insults.
Earlier today. the Hong Kong police banned the CHRF from organising a rally and a march on 31 August, the fifth anniversary of Beijing announcing its decision on how "universal suffrage" would be implemented in Hong Kong. CHRF has appealed the decision. The police claim the ban is justified because they say some protesters are likely to resort to violent acts and cause injuries.
The CHRF organised protests against the Extradition Bill on 9 June, where an estimated one million people marched, and further protests on 16 June where an estimated two million people participated.
On 18 August, police banned the CHRF from organising a march but permitted a rally in Hong Kong's Victoria Park. An estimated 1.7 million people walked along the main streets of Hong Kong Island as they tried to enter the park and attend the rally. There were no violent incidents that day.