Hong Kong: Inauguration Of New Leader On 25th Anniversary Of Handover Is 'Ominous Moment For Human Rights'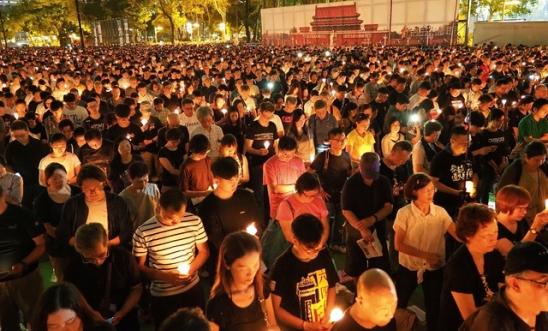 Recent laws have undermined the freedoms of expression, peaceful assembly, association and other human rights in the city. © CC/Etan Liam
'Xi oversees the inauguration of a new leader hand-picked by the Beijing authorities in a territory where the law – and its repressive implementation – increasingly resembles that of mainland China' - Erwin van der Borght
Hong Kong's new chief executive John Lee must fundamentally shift his approach to prevent the city sinking further into human rights meltdown, Amnesty International said as Lee was inaugurated in the presence of Chinese President Xi Jinping on the 25th anniversary of the handover of Hong Kong from Britain to China.
The former Hong Kong security chief, who oversaw the police crackdown on the 2019 mass protests and the implementation of the city's repressive national security law, will be taking over from former leader Carrie Lam.
Today is 25 years since the handover of Hong Kong from Britain to China. It also marks two years since Hong Kong passed a national security law which came into force just before midnight on 30 June 2020, and has since undermined the freedoms of expression, peaceful assembly, association and other human rights in the city.
Erwin van der Borght, Amnesty International's Asia-Pacific Regional Director, said:
"John Lee's record of repression makes this an ominous moment for human rights in Hong Kong. As the city's security chief, he led the assault on activists, opposition politicians and civil society under the national security law, and praised police who had used excessive force against protesters in 2019

"President Xi returns to a Hong Kong fundamentally changed from his last visit five years ago. The city has been rapidly transformed by the draconian national security law enforced by Xi's government in 2020.

"Xi oversees the inauguration of a new leader hand-picked by the Beijing authorities in a territory where the law – and its repressive implementation – increasingly resembles that of mainland China.

"Hong Kong's Legislative Council, purged of opposition under the national security law, will effectively provide a rubber stamp for Lee's proposals, which will likely mirror similar laws in mainland China.
John Lee: record of repression
As Hong Kong's Secretary for Security, Lee enforced a crackdown on the largely peaceful mass protest movement in 2019, during which Amnesty International documented evidence of torture and other ill-treatment of protesters by the Hong Kong Police Force, among other human rights violations. As superior officer, he was responsible for failing to prevent and effectively investigate the police's unnecessary and excessive use of force.
He was later in charge of policing functions as the city's authorities weaponized the Beijing-imposed national security law to crush all forms of dissent. Amnesty International has documented multiple human rights violations perpetrated under the law.
Lee has already indicated his plans to push through further repressive legislation as chief executive, including by introducing the notorious 'Article 23' of the city's Basic Law. The legislation, which was shut down by mass protests when the government first attempted to pass it two decades ago, stipulates that the Hong Kong government should enact its own laws to prohibit treason, secession, sedition and "subversion against the central government", among other offences.
Lee and other senior officials have also said the new government will push for even greater powers under the national security legal regime, including laws governing state secrets, cybersecurity and "fake news".
UN human rights review
This week, the United Nation's Human Rights Committee will review the Hong Kong government's human rights performance for the first time since the implementation of the national security law.
The Hong Kong government has said its efforts to safeguard human rights are open to public scrutiny. However, Amnesty International has documented evidence of groups that have been deterred from participating in this UN review for fear of being accused of "colluding with foreign forces" under the national security law.
The civil society landscape in Hong Kong has changed drastically since the UN last formally reviewed Hong Kong's human rights situation in 2018. Many local groups that used to facilitate civil society's participation in UN human rights mechanisms disbanded in 2020. Several of their leaders are currently detained awaiting trial on national security charges, and others have been forced into exile.
Amnesty International has made a submission to the UN Human Rights Committee ahead of the UN's upcoming periodic report on Hong Kong.
Downloads