Hong Kong: Ban on Tiananmen vigil should be lifted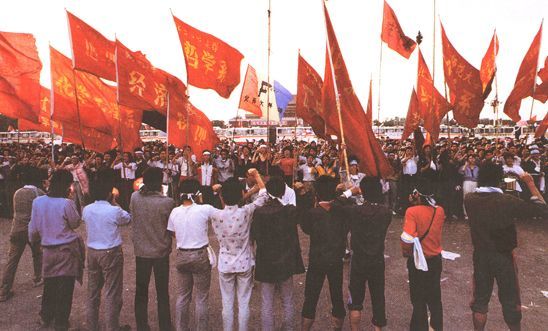 Protesters in Tiananmen Square, Beijing, 1989 © Shao Jiang
Police have banned Thursday's anniversary event on supposed public health grounds
Unless ban is lifted, this 4 June would be first time in 30 years Victoria Park vigil does not take place
'The Hong Kong authorities should help facilitate a socially-distanced Tiananmen vigil rather than outright banning it' - Joshua Rosenzweig
Responding to a move by Hong Kong police to ban this week's Tiananmen anniversary vigil in the city's Victoria Park because of supposed COVID-19 public health concerns, Joshua Rosenzweig, Amnesty International's East and South East Asia Deputy Director, said:   
"COVID-19 must not be used as an excuse to stifle freedom of expression.
"The Hong Kong authorities should help facilitate a socially-distanced Tiananmen vigil rather than outright banning it. On 4 June, of all days, people in Hong Kong must be allowed to peacefully exercise their rights to freedom of expression and assembly.
"In recent weeks, we have seen the Hong Kong police repeatedly clamp down on peaceful protests with arbitrary mass arrests and excessive force - including the use of tear gas and pepper pellets.
"By deeming this important memorial event 'illegal', the police have again needlessly exacerbated rising tensions when thousands of people simply want to light a candle for those who lost their lives during the horrific events of 4 June 1989.
"With this ban, and a disastrous national security law looming, it is not clear if Hong Kong's Tiananmen vigil will ever be allowed to take place again." 
Tiananmen Square killings
On the evening of 3-4 June 1989 in Beijing's Tiananmen Square, hundreds - possibly thousands - of people were killed when troops opened fire on students and workers who had been peacefully calling for political and economic reforms, as well as an end to corruption. No one knows the exact number of fatalities, as the Chinese authorities have stifled and censored discussion of the crackdown for the past three decades.
Every 4 June since 1990, thousands of people have staged a candlelit vigil in Hong Kong's Victoria Park to remember those killed and to call on the Chinese authorities to reveal the truth about what happened and take accountability for the fatalities.
Earlier today, police banned this week's planned 4 June event on public health grounds. Hong Kong's ban on gatherings of more than eight people due to COVID-19 was recently extended until Friday 5 June, despite the city having had a total of ten locally-transmitted cases of the virus in the past six weeks.
Protests have reignited in Hong Kong in recent weeks in response to a Beijing-imposed framework for a national security law for the city and another locally-proposed law that would criminalise those who were deemed to have ridiculed China's national anthem.
Last Wednesday, police indiscriminately fired pepper pellets to disperse a protest, while more than 300 people were arbitrarily arrested in a heavy-handed police operation.
Last month, the Macau government also banned the city's annual Tiananmen photo exhibition on health grounds despite no social distancing measures being in place.