Hakeem al-Araibi: Thai government 'shirking responsibility' by detaining footballer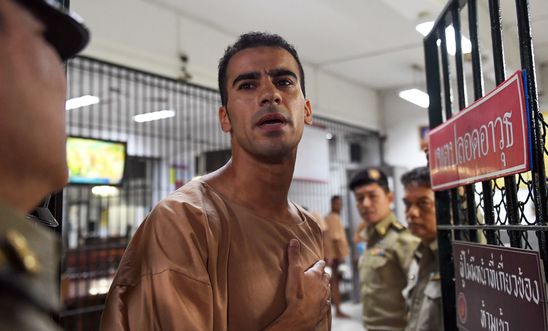 © © LILLIAN SUWANRUMPHA/AFP/Getty Images
Responding to the Thai government's statement asking Bahrain and Australia to find a "mutually agreeable solution" in the case of Hakeem al-Araibi, Dr Graham Thom, Refugee Coordinator for Amnesty International Australia, said:
"The Thai Government are clearly taking steps to negate their part in Hakeem's detention and pass the buck for their culpability. While they are attempting to shift the blame for his ongoing detention onto a lack of diplomacy between Australia and Bahrain, this is not the reality.

"Thailand is highly culpable for Hakeem's detention and still has the power at any point to bypass the court proceedings and make a decision to send him home to Australia.

"Hours before Hakeem's flight was scheduled to depart, he was told he could no longer leave. This sudden change of heart appears a blatant reaction to pressure from Bahrain to extradite Mr al-Araibi. Using the Red Notice to excuse what subsequently occurred, is simply a diversion from the truth: that Thailand could have and should have sent him back to Australia immediately, as they originally indicated they would.

"Officials from Australia and around the world are working tirelessly to get Hakeem home. This should not be a schoolyard spat - there is a man's life on the line and suggesting the parties can 'talk to each other and sort out their problems' is insulting to everyone working so hard to save Hakeem from the fate that awaits him if returned to Bahrain.

"Thailand need to stop shirking responsibility for the major part they have played in this atrocious breach of a recognised refugee's human rights and make the right decision. Thailand can, and should, return Hakeem to Australia."
Spoken out on torture
A former player for Bahrain's national football team, al-Araibi has spoken out about a senior Bahraini official's alleged torture of footballers who had participated in demonstrations. He was himself arrested in November 2012 and tortured. He was then sentenced to 10 years in prison in an unfair trial in Bahrain in 2014.
He has since spoken publicly about his own torture, saying: "They blindfolded me (…and) beat my legs really hard, saying, 'You will not play soccer again. We will destroy your future'." Later, al-Araibi fled to Australia where he was recognised as a refugee in 2017.
Al-Araibi has now been held for more than two months in Thailand, awaiting possible extradition to Bahrain.
Travelling on an Australian travel document, al-Araibi was detained with his wife upon arrival in Bangkok on 27 November last year. The couple were transferred to Suan Plu immigration detention centre on 2 December. The next day, al-Araibi was taken to court and served with a 12-day detention order, and on his way back to Suan Plu, his mobile phone was confiscated.
Under international law, it is prohibited to return an individual to a territory place when there is a reasonable fear that the individual will be at real risk of suffering torture or other serious human rights violations.