Guantánamo: psychologists who created CIA torture techniques to testify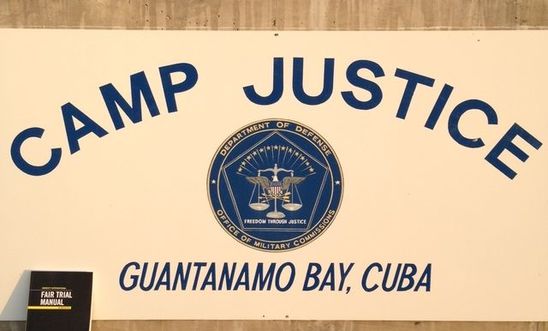 The two psychologists are testifying in a pre-trial hearing for Khalid Sheikh Mohammed at Guantánamo © Amnesty International
Two contract psychologists to testify at Guantánamo for first time 
James E Mitchell and John 'Bruce' Jessen responsible for waterboarding, confinement in small boxes, beatings and sleep deprivation
Amnesty expert to attend Monday's hearing - available for interview
The two psychologists responsible for designing and implementing the CIA's "enhanced interrogation techniques" will testify in pre-trial hearings at Guantánamo Bay next week. 
The two contract psychologists, James E Mitchell and John "Bruce" Jessen, were responsible for developing the CIA's infamous "enhanced interrogation techniques" - including waterboarding, confinement in small boxes, beatings and sleep deprivation - which amounted to torture. 
During the US's global "war on terror", many CIA detainees suffered this and other abuse in secret locations around the world, sometimes with the clear complicity of European governments.
Amnesty has repeatedly said that all US Government officials involved in the torture and ill-treatment of war on terror detainees should be held fully accountable, and that all detainees at Guantánamo should either be released or promptly tried in a US federal court.
The question of whether torture-tainted statements should be excluded from evidence in the trial of Khalid Sheikh Mohammed and four other men charged with helping to plan and assist in the 9/11 attacks is at the centre of the forthcoming hearings at Guantánamo. All five co-defendants could face the death penalty if found guilty by Guantánamo's military commissions, whose proceedings do not meet international fair trial standards. 
Julia Hall, Amnesty International's counter-terrorism expert who will be attending the hearings, said:
"The perverse 'work' of these psychologists has dramatically set back the global fight against torture. The interrogation methods they championed have had a rippling effect around the world.

"Rather than being held to account, the people responsible for the US torture programme - including Mitchell and Jessen - have been protected and, in some cases, promoted. 

"The fact that they are testifying at this high-profile hearing shows the CIA's failure to root out the human rights abuses at the heart of its counter-terror programme. Torture is never justified and anyone who uses it must be held to account."
Khalid Sheikh Mohammed and 9/11 case 
Mitchell and Jessen are expected to begin testifying on Monday (20 January) in the pre-trial military commission hearings against Khalid Sheikh Mohammed and his co-accused.  
Amnesty is one of the few NGOs able to attend non-classified hearings at Guantánamo. Julia Hall was one of the first people granted permission by the US Department of Defense to monitor military commission proceedings. In 2008, she observed the first trial at Guantánamo in the case of Salim Hamdan, Osama bin Laden's driver.