Gruffalo co-creator illustrates poem by refugees on National Poetry Day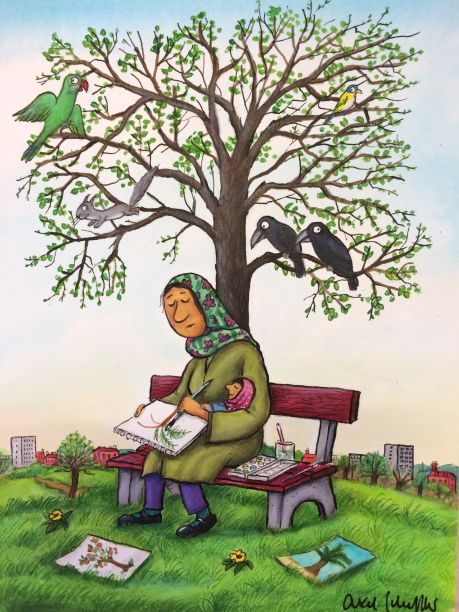 Axel Scheffler illustrates poignant poem by refugees at the Islington Centre for Refugees and Migrants
Renowned artist collaborates with Amnesty to campaign for a change to UK refugee family reunion rules
Unique illustration up for auction
An emotive new illustration by the Gruffalo's co-creator, Axel Scheffler, and inspired by a refugee poem has been released today (3 October) in support of Amnesty International UK and the #FamiliesTogether campaign.
Released on National Poetry Day (3 October) the thought-provoking image depicts a mother with child, painting under a tree. The illustration in Scheffler's iconic style is based on a beautiful poem - Trees of Home - created by refugees at the Islington Centre for Refugees and Migrants.
Reflecting on the theme of family, the poignant poem centers on refugee family separation and the longing to be reunited with loved ones. 
The image was live drawn and filmed, and took Scheffler approximately two and a half hours to sketch. The original image will be auctioned off with proceeds going towards supporting the vital work of Amnesty International UK and the Islington Centre for Refugees and Migrants.
Scheffler, who was born in Germany and has lived in the UK since the early 1980s, is best known for his work on critically acclaimed children's book The Gruffalo which celebrates its 20th anniversary this year.
Axel Scheffler, said:
"Some of the most cherished childhood memories involve parents reading stories to their children. As a children's book illustrator, I cannot bear the thought of children being separated from their parents and missing out on these small moments that make family life wonderful.
"But current UK rules are keeping refugee families apart – children who have fled war and conflict reach safety in the UK only to be prevented from ever seeing their parents again. Children need their parents, it's time for these rules to change."
The poem was written in collaboration with Waterstones Children's Book Prize winner and Amnesty Ambassador Sita Brahmachari. It is part of Amnesty's poetry and human rights education project, Words That Burn and has been specially created to support the Families Together Campaign, which works to expand the UK Government's refugee family reunion rules, so that more refugee families can unite safely in the UK. 
TREES OF HOME
Here I wait
Painting the trees of home
With their splendid, succulent, splintered roots
Banana, Birch, Mango, Chilli, Cherry, Apple, Oak, Coconut, Palm, Plane
Here I paint
At the foot of the memory tree
Deep roots
Legs of skinny brown bark holding up a blue world
My child is kissed by a falling leaf
And kissed
And kissed
Here is the tree planted by my grandfather on my daughter's birthday
Now I sit in a London park
And paint and wait
To hold her in my arms
Among the saplings
The bright green leaves
The promise of spring
Sap-sweetness
Another summer
Now sparse winter, bright red berries
Splintered
Season after season I paint and wait
For these branches to bud.
To see my family again.
About the Islington Centre for Refugees and Migrants
The Islington Centre for Refugees and Migrants was founded in 1997, offering English classes to asylum seekers, refugees, and migrants. The Centre works to create a strong, positive, community for people who have been displaced from their countries of origin due to persecution, war, and poverty.  Artist in residence, Jane Ray, and writer in residence, Sita Brahmachari, work with refugees in an art and writing class, to make pictures and collect words and stories exploring themes such as trees, maps or rivers. The poem is a culmination of their efforts.
Find out more about the Islington Centre for Refugees and Migrants here: www.islingtoncentre.co.uk  
About the Families Together campaign
Amnesty International UK is a founding member and co-chair of the Families Together coalition, which campaigns to expand the UK Government's refugee family reunion rules, so that more refugee families can unite safely in the UK. The campaign has three calls:
Allow child refugees in the UK the right to sponsor their close family, so they can rebuild their lives together and help them integrate in their new community;

Expand who qualifies as family, so that young people who have turned 18 and elderly parents can join their family in the UK;

Reintroduce legal aid for refugee family reunion cases so people who have lost everything have the support they need to afford and navigate the complicated process of being reunited with their families.
The campaign is backed by over nearly 50 organisations, including the Refugee Council, British Red Cross, Oxfam and the UNHCR. Take action here.