Greece: Fresh evidence of violence against refugees and migrants - new report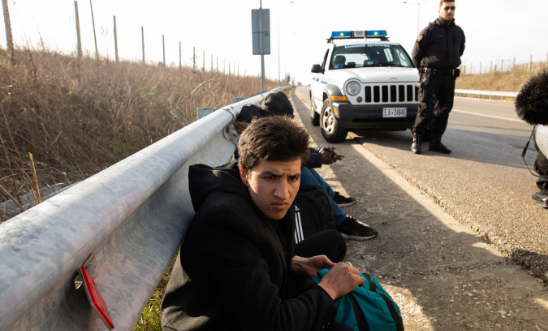 Two migrants are detained by Greek Police, near the village of Kavyli, in Evros, close to the Greek-Turkish borders, on 03 March 2020 © Achilleas Chiras/NurPhoto via Getty Images
Testimonies from 16 people describe torture and illegal pushbacks
One group deliberately left stranded on river island for days
'Violent pushbacks have become the de facto Greek border control policy - Adriana Tidona
Greek border forces are violently and illegally detaining groups of refugees and migrants before forcing them back to Turkey, Amnesty International said in a shocking new report today (23 June).
Amnesty's 46-page report - Greece: Violence, lies and pushbacks - documents serious human rights violations by the Greek authorities amid a continued attack on people seeking safety - with illegal and violent pushbacks at land and sea.
The report focuses primarily on unlawful operations in the Evros region, at the land border between Greece and Turkey. Pushbacks are also taking place in mainland Greece where people are apprehended and detained before being returned to the Evros region and then illegally returned to Turkey.
Amnesty spoke to 16 people and among them was a recognised refugee and a registered asylum seeker who had been living in mainland Greece for almost a year.
Amnesty has gathered testimonies of those who personally experienced or witnessed violence from uniformed Greek officials and men in civilian clothing apparently working with the authorities. Eyewitnesses describe blows with sticks or truncheons, kicks, punches, and slaps that sometimes resulted in severe injury. Men were often subjected to humiliating and aggressive strip searches, and some incidents amounted to torture due to their severity and their humiliating or punitive intent.
*Saif - ambushed by soldiers
Saif, a 25-year-old Syrian man, was ambushed by "soldiers" in black clothing and balaclavas and taken to the banks of the Evros river, which runs across the Greek-Turkish border. Two people in the group tried to escape but were stopped and ruthlessly beaten by one of the soldiers. Saif, who suspected that one of the men's spine had been broken, said:
"He could not move at all, he could not even move his hands".
*Nabil - registered asylum-seeker beaten
Nabil, a 31-year-old Syrian man and registered asylum-seeker in Greece, was arrested at the port in the city of Igoumenitsa, in north-western Greece. Police told him he would be transferred to Athens and released. However, he was then taken to a detention site close to the Evros land border, beaten and pushed back into group of 70 people, including children.
Nabil, said:
"Before I entered the bus, I showed the police my asylum card, but they took it from me, shredded it, and told me to get into the bus".
*Names have been changes to protect identities.
Stranded on island for days
One person told Amnesty that during one of the return operations, he and his group were forced off a boat and into the water near an island in the middle of the Evros river, where they remained stranded for days. One man who was forced off the boat could not swim and screamed for help in the water - he was then swept away by the current. 
Adriana Tidona, Amnesty International's Europe migration researcher, said:
"Our research shows that violent pushbacks have become the de facto Greek border control policy in the Evros region.

"The level of organisation needed to execute these returns shows just how far Greece is going to illegally return people and cover it up.

"All of the people we spoke to were pushed back from areas where Frontex has significant numbers of staff. The agency cannot therefore claim to be ignorant of the abuses that we, and many others, have documented.

"Frontex has the duty to prevent human rights violations - if they cannot do this effectively, they should withdraw or suspend operations in Greece."