Gaza: attacks on UN school and power plant are likely war crimes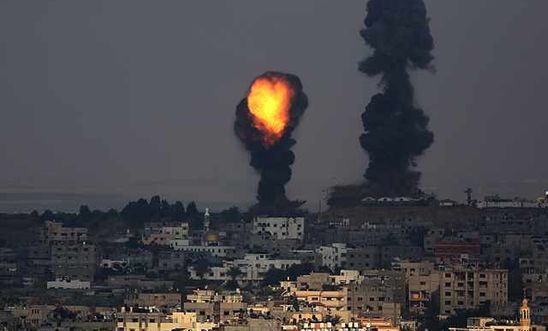 Israel has stepped up air strikes on Gaza © EPA/MOHAMMED SABER
'If the strike on this school was the result of Israeli artillery fire it would constitute an indiscriminate attack and a likely war crime' - Philip Luther
An attack overnight on the Jabaliya elementary school in Gaza, where more than 3,000 displaced civilians had sought refuge, is a possible war crime and should be independently investigated, said Amnesty International.
The attack killed at least 20 people and injured dozens more at the school, which is located inside the very densely-populated Jabaliya Refugee Camp. 
An initial assessment by UNRWA - the UN relief agency for displaced Palestinians and refugees, which analysed fragments and damage at the site - indicates the school was hit by Israeli artillery despite the fact that UNRWA shared its location coordinates with the Israeli army 17 times. The strike is the sixth attack on a UN-run school in Gaza since Operation "Protective Edge" began on 8 July. 
Amnesty International Middle East and North Africa Director Philip Luther said:
"If the strike on this school was the result of Israeli artillery fire it would constitute an indiscriminate attack and a likely war crime. 

 

"Artillery should never be used against targets in crowded civilian areas and its use in such a manner would never be considered a 'surgical' strike.

 

"As the civilian death toll continues to mount at an alarming rate, Israel has an obligation to take all feasible precautions to protect civilians from harm. It is appalling that civilians who have heeded Israeli warnings to flee their homes have been killed and injured overnight in the presumed sanctuary of a UN school." 
Amnesty is pointing out that it is inevitable that the repeated use of artillery in densely-populated civilian neighbourhoods will lead to the unlawful killing and injury of civilians and destruction, and damage to civilian buildings, regardless of the intended target. Israeli forces have used such reckless tactics before, including in Operation "Cast Lead" in 2008-9, when some 1,400 Palestinians were killed, the majority of them civilians. 
On three occasions in recent weeks UNRWA has reported finding stockpiles of Palestinian rockets at schools which were not at the time being used as shelters. Amnesty is calling on Hamas and all Palestinian armed groups not to endanger civilians by storing ammunition in UN facilities and other civilian buildings. The attack on the UN school came a day after the Gaza Strip's sole power plant was struck and badly damaged. It is likely to take at least a year to repair.   
Philip Luther added:
"The strike on the power plant, which cut off electricity and running water to Gaza's 1.8 million residents and numerous hospitals, has catastrophic humanitarian implications and is very likely to amount to a war crime. 

 

"There can be no justification for targeting a civilian structure that provides crucial services to so many civilians. The scale of the consequences of this attack are devastating and could amount to collective punishment of Gaza's population.

 

"The UN Human Rights Council last week established a commission of inquiry to investigate violations of international law in the current conflict. In stark contrast to the experience after previous conflicts in Gaza, their work into these and other possible war crimes must, this time, lead to those responsible for crimes under international law being brought to justice."
Call on Philip Hammond to stop arms transfers to Israel
Over 30,000 people have supported an
Amnesty call
on the Foreign Secretary Philip Hammond to stop UK arms transfers to Israel.
Amnesty is calling for an immediate suspension of all UK arms transfers to Israel - as well as for pressure to be exerted on those supplying Palestinian groups in Gaza with munitions. Last year the UK sold £6.3m of arms to Israel - in the past, UK-supplied equipment has been used by the Israeli military to commit human rights violations in Gaza.