France: Landmark European Court of Human Rights judgment rules boycott campaign against Israel cannot be criminalised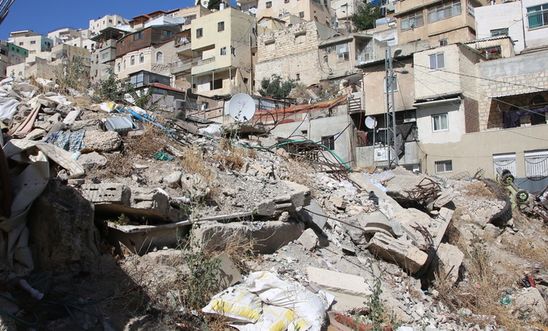 Palestinian owned buildings that have been demolished on the orders of Israeli municipal authorities © Amnesty International
In 2009, 11 campaigners were charged with 'incitement to discrimination' for handing out  Boycott, Divestment, Sanctions (BDS) leaflets, and given suspended fine of  €1,000 and €7,000 in damages
Today's ruling states that the convictions for campaigning for a boycott of Israeli products violated the campaigners' right to freedom of expression
'The ECHR's [ruling]… should send a clear message to all European states that they must stop the prosecution of peaceful activists' - Marco Perolini
Responding to today's ruling by the European Court of Human Rights, that the convictions of 11 activists in France for campaign actions calling for a boycott of Israeli products violated their right to freedom of expression, Marco Perolini, Amnesty International's France Researcher said:
"Today's decision sets a significant precedent that should stop the misuse of anti-discrimination laws to target activists campaigning against human rights violations perpetrated by Israel against Palestinians.

"Peaceful activists in France have been increasingly targeted using inappropriate laws and criminalised simply for freely expressing their views and advocating for boycotts, divestments, and sanctions as a tool to end human rights violations against Palestinians in the Occupied Palestinian Territories.

"The recognition by the ECHR that these convictions violate their right to freedom of expression should send a clear message to all European states that they must stop the prosecution of peaceful activists. 

"Since 2010, French authorities have specifically instructed prosecutors to use anti-discrimination laws against BDS campaigners which are not used against activists who participate in similar boycott campaigns targeting other countries. With this decision it is now clear that no state should be exempt from peaceful criticism by campaigners.

"Amnesty does not take a view on the BDS movement. It is up to individuals and organisations to determine what strategies to use in furtherance of human rights. 
 
"We believe that advocates of BDS should be allowed to express their views and take forward their campaigns without harassment, threats of prosecution or criminalisation, or other measures that violate the right to freedom of expression."
 
Persecuted for speaking out
In September 2009, five campaigners took part in an action inside a hypermarket in Illzach, north-eastern France. They called for a boycott of Israeli products, handing out Boycott, Divestment, Sanctions (BDS) leaflets to raise awareness about human rights violations by Israel in the Occupied Palestinian Territories (OPT). Eight of the applicants were involved in a similar action in March 2010.
They were charged with "incitement to discrimination", a criminal offence in France, and convicted to a suspended fine of  €1,000 and  €7,000 in damages. The French Court of Cassation upheld their convictions in 2015
In May 2019, German Parliament adopted a resolution that labels the BDS campaign as antisemitic. Laws that criminalise or restrict BDS activism exist or are being discussed in several countries including Israel, the US and the UK.