Forty pairs of shoes go on display in London to highlight student disappearances in Mexico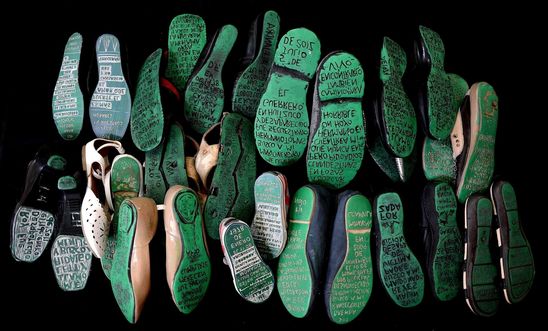 The soles of shoes engraved by Mexican artist Alfredo Lopez Casanova
Forty pairs of shoes worn by family members searching for their disappeared loved ones in Mexico have gone on display in London today.
The exhibition, at Amnesty International UK's building in east London (Shoreditch), is called Footprints of Memory:  Searching for Mexico's Disappeared. It tells the stories of some of the 28,000 Mexicans who have gone missing since 2006 and the desperate search by their family members to find them.
The exhibition also includes footprints of the shoes, with messages for disappeared relatives painstakingly carved with lino cutters into the soles by Mexican artist Alfredo López Casanova. Some are engraved with green ink, the colour representing the hope that the missing will be found, while others are black, meaning that the missing person's body has been discovered.
One of the pairs of shoes is engraved with this heart-rending message:
"I am Leonel Orozco García ... My Dad, Moises Orozco, was detained and disappeared on the 22 May 2012 in Apatzingán, Michoacán. I am searching for my Dad until I find him because he's my Dad and we love him lots."
Several pairs of shoes in the exhibition belong to relatives of the 43 students who disappeared in Iguala, Guerrero, in September 2014 - an incident that sparked outrage around the world. Two years on there has been no investigation and no-one has been brought to justice. Amnesty is working to uncover the truth about what happened to the students.
Tilly Lavenas, Amnesty International UK's country coordinator for Mexico, said:
"Footprints of Memory is a moving and revelatory depiction of this most terrifying aspect of present-day Mexico - its epidemic of disappearances.
"The number of people disappeared in Mexico is shocking – one would be too many but there are now tens of thousands of people whose whereabouts are unknown. That means tens of thousands of families racked with worry and grieving for their missing loved ones.
"Families are having to deal not only with the stress of not knowing what happened to their loved ones, but also with indifference from the authorities in bringing those responsible to justice."
In Mexico, relatives of the disappeared often travel to Mexico City to demand answers from the authorities as to the whereabouts of their loved ones, but politicians and civil servants usually refuse to meet them. Cases are rarely investigated and perpetrators are hardly ever brought to justice. In 2015, the government told the UN Committee on Enforced Disappearances that it had achieved only six convictions in cases of enforced disappearances.
The increase in the number of disappearances over the last decade has coincided with the government's "war on crime", launched by then-President Felipe Calderon in 2006.
The exhibition runs until Friday 31 March, from 9am to 6pm, at Amnesty International UK, 25 New Inn Yard, London EC2A 3EA (Shoreditch).
About the artist
Alfredo López Casanova is an artist and sculptor from Guadalajara, México. He founded the now collective project Huellas de la Memoria (Footprints of Memory) working from his studio in Mexico City. He began engraving the shoes of relatives of the disappeared in 2015, and the project is now maintained by a small but growing group of people.