EU-Africa summit must address war crimes and ethnic cleansing in Central African Republic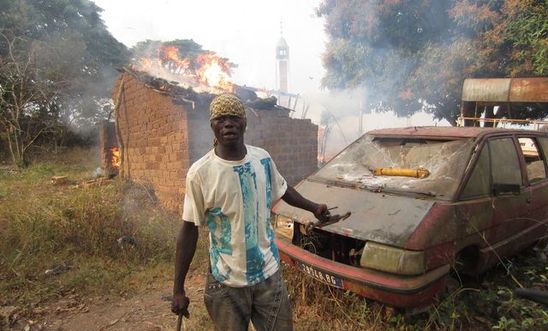 Burning/looting of Muslim property and a mosque in PK 26 area, north of the capital Bangui, Central African Republic, 23 January © Amnesty International
The EU's deployment of up to 1,000 troops must only be the beginning of the international community's renewed response to the ethnic cleansing in the Central African Republic, Amnesty International said as a key EU-Africa Summit opened in Brussels today.
For months, Amnesty has been calling for an urgent international response to the on-going ethnic cleansing of Muslims, war crimes and crimes against humanity being perpetrated in the Central African Republic.
The EU military operation 'EUFOR RCA' is expected to deploy soon but is only intended as a "bridging mission" to support the existing 8,000 African Union and French troops until a fully-fledged UN peacekeeping force can deploy later this year.
Christian Mukosa, Central Africa Researcher at Amnesty International said:

"The Central African Republic is gripped by a human rights and humanitarian crisis of historic proportions. By failing to respond more robustly and urgently, the international community has shown a callous disregard for the country's embattled civilians, abandoning them in their moment of need.
"The full deployment of EUFOR RCA will be crucial to laying the foundations for the future UN peacekeeping mission; we only hope that the delays over the past couple of months will not jeopardise the international community's effort to protect civilians in all parts of the Central African Republic."
The UN Secretary-General has proposed a 12,000-strong UN peacekeeping force for CAR, but it cannot be sent to the country until September. In February, as a stop-gap measure, the EU promised the rapid deployment of up to 1,000 soldiers, military equipment and supplies to the Central African Republic. Nearly two months later, the EU's forces are still being assembled to reach full capacity.
Meanwhile, the 8,000 African-led International Support Mission to the Central African Republic and the French troops already stationed in the country have struggled to protect civilians effectively.  At the end of March, MISCA peacekeepers themselves came under repeated attack from the 'anti-balaka' militias pointing to a further serious deterioration in security.
Amnesty is calling on the EU and the African Union to urgently bring stability to the Central African Republic until a full peacekeeping mission can be deployed. The support of 1,000 troops is only the first step in ensuring vital financial, political and logistical support reaches peacekeeping troops and civilians caught up in violence across the country.