Egypt: sentencing to death of more than 500 people is a 'grotesque' ruling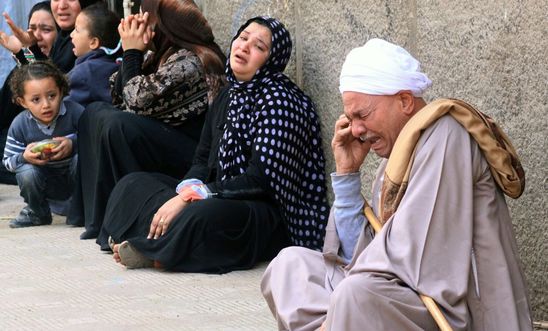 Relatives cry sitting outside the courthouse after hearing the verdict. © AFP/Getty Images
'This is the largest single batch of simultaneous death sentences we've seen … anywhere in the world'
Hassiba Hadj Sahraoui, Middle East & North Africa Director
Numbers are more than total death sentences in Egypt in last three years combined
The handing down of mass death sentences by a court in Egypt today has been condemned as a grotesque move by Amnesty International.
According to state media reports in Egypt, in a single hearing this morning the Minya Criminal Court sentenced 529 supporters of former President Mohamed Morsi to be executed for their alleged role in violence following his ousting last July.
Amnesty International Middle East and North Africa Deputy Director Hassiba Hadj Sahraoui said:
"This is injustice writ large and these death sentences must be quashed. Imposing death sentences of this magnitude in a single case makes Egypt surpass most other countries' use of capital punishment in a year.

 

"This is the largest single batch of simultaneous death sentences we've seen in recent years, not just in Egypt but anywhere in the world. 

 

"Egypt's courts are quick to punish Mohamed Morsi's supporters, but ignore gross human rights violations by the security forces.

 

"While thousands of Morsi's supporters languish in jail, there has not been an adequate investigation into the deaths of hundreds of protesters. Just one police officer is facing a prison sentence for the deaths of 37 detainees."
The Egyptian authorities do not release figures on death sentences and executions, despite repeated Amnesty requests. However, Amnesty knows that Egyptian courts handed down at least 109 death sentences in 2013. There were at least 91 death sentences in 2012, and at least 123 in 2011. The last known execution in Egypt was carried out in October 2011, when a man was hanged for the killing of six Coptic Christians and a Muslim police guard in a drive-by shooting in 2010.
Note to editors
This Thursday (27 March), Amnesty will release worldwide death penalty statistics for 2013. Please contact the Amnesty UK media team for an embargoed copy of these.