Egypt: release of Ibrahim Halawa welcomed, but jailing should never have happened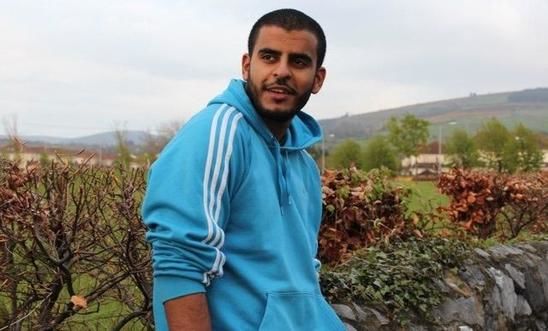 21-year-old Ibrahim Halawa was arrested over four years ago and has been behind bars until today © Amnesty International
'It is utterly outrageous that he was forced to spend a single minute of his young life behind bars' - Najia Bounaim
Today's release of Irish citizen Ibrahim Halawa is a resounding victory for those who've campaigned on his behalf and brings to an end his four-year ordeal behind bars in an Egyptian prison, said Amnesty International. 
Mr Halawa's release from Wadi al-Natroun prison is long overdue, coming more than a month from his acquittal date. He is due to arrive home in Ireland in the coming days. Amnesty has been campaigning for his release since he was first arrested at a protest in Cairo in 2013. Thousands of Amnesty supporters in dozens of countries signed petitions calling on the authorities to set him free during the years he was detained. 
Halawa was arrested, aged 17, along with hundreds of others during protests on 16 and 17 August 2013 in the vicinity of al-Fath Mosque in central Cairo. The protests descended into violence which the security forces responded to by using excessive lethal force that left at least 97 people dead. According to Amnesty's research, there is no evidence to indicate that Halawa was involved in any of the violence and Amnesty believes he was jailed for peacefully exercising his rights to freedom of expression and assembly.
He was eventually acquitted last month (18 September), but 442 others were found guilty after a deeply unfair mass trial in Cairo. Forty-three defendants were given life sentences, 399 were sentenced to between five and 15 years, and 51 were acquitted alongside Halawa. Amnesty is calling for all those jailed for peacefully exercising their rights to be immediately released.
Najia Bounaim, Amnesty International's North Africa Campaigns Director, said:
"After four years of unjust detention, today Ibrahim Halawa finally walks free. 

"He should never have been jailed in the first place and it is utterly outrageous that he was forced to spend a single minute of his young life behind bars.

"Today is not just a day of celebration for Ibrahim Halawa, it is a triumphant day for all his friends, family members and the thousands of activists in Ireland and across the globe who fought long and hard to campaign for his release and an end to his agonising ordeal. 

"His acquittal and release shows that by standing up for human rights and speaking out persistently in the face of injustice, people have the power to make a real difference. 

"The Egyptian authorities must now take urgent steps to release all other prisoners of conscience in their custody. No-one should have to face the injustice he was forced to suffer." 
Mass disappearances and torture at hands of security officials
In a report last year, Amnesty showed how the Egyptian security services had forcibly disappeared and tortured hundreds of people in a sinister campaign to wipe out peaceful dissent. Hundreds of students, political activists and protesters - including children as young as 14 - have vanished without trace at the hands of the state. On average three to four people per day have been seized, according to local NGOs, usually when heavily-armed security forces led by Egypt's National Security Agency stormed their homes. Many have been held for months at a time and often kept blindfolded and handcuffed for the entire period.