Egypt: secret detention and torture of opponents is 'key instrument of state policy' - new report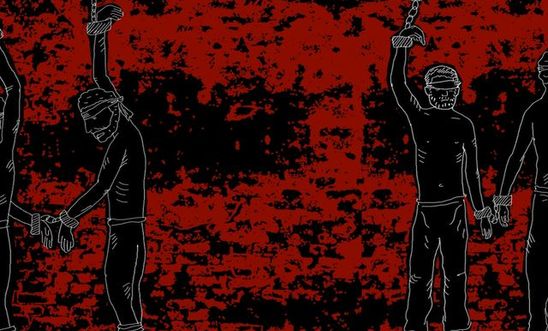 Even children have been tortured by interrogators from Egypt's notorious National Security Agency © Amnesty International
Hundreds disappeared and tortured in year-long wave of brutal repression
Murdered Italian student Giulio Regeni's case has 'clear similarities' with other state disappearance cases
14-year-old boys among those tortured - one repeatedly raped with a stick
In the past year the Egyptian security services have forcibly disappeared and tortured hundreds of people in a sinister campaign to wipe out peaceful dissent, said Amnesty International in a damning new report published today.
Amnesty's 70-page report - Egypt: 'Officially, you do not exist': Disappeared and tortured in the name of counter-terrorism - reveals a trend which has seen hundreds of students, political activists and protesters - including children as young as 14 (see CASES below) - vanish without trace at the hands of the state.
On average three to four people per day have been seized, according to local NGOs, usually when heavily-armed security forces led by Egypt's National Security Agency storm their homes. Many have been held for months at a time and often kept blindfolded and handcuffed for the entire period.
One of the cases featured in the report is that of the Italian student Giulio Regeni. The 28-year-old Cambridge University PhD student was found dead (his body bearing signs of torture) in Cairo in February, a case attracting worldwide media attention. The Egyptian authorities have repeatedly denied involvement in his disappearance and killing but Amnesty's report has found clear similarities between his injuries and those of Egyptians who've died in custody.
Amnesty International UK's Individuals At Risk Campaigns Manager Felix Jakens said:
"The terrible injuries sustained by Giulio Regeni are similar to those suffered by numerous people interrogated by the Egypt security forces - his case is just the tip of the iceberg.

 

"We fear Regeni was abducted by state agents and tortured to death, and until we get a thorough independent investigation into his death those suspicions are only going to grow."
While Mr Regeni's body was found dumped on a roadside on the outskirts of Cairo, hundreds of people are thought to be secretly held in the National Security Agency offices in Lazoughly Square. These offices are located inside the headquarters of the Ministry of Interior, close to Cairo's iconic Tahrir Square which was the scene of mass protests against torture and brutality by Mubarak-era security forces. Amnesty's report points to a visible spike in disappearances since Magdy Abd el-Ghaffar was appointed Minister of Interior in March 2015. El-Ghaffar previously served in Egypt's State Security Investigations, the secret police force notorious for human rights violations during Mubarak's rule.
Amnesty International Middle East and North Africa Director Philip Luther said:
"Enforced disappearance has become a key instrument of state policy in Egypt.

 

"Anyone who dares to speak out is at risk, with counter-terrorism being used as an excuse to abduct, interrogate and torture people who challenge the authorities. 

 

"The report exposes not only the brutality faced by those disappeared but also the collusion between national security forces and judicial authorities, who have been prepared to lie to cover their tracks or failed to investigate torture allegations, making them complicit in serious human rights violations."
Collusion in abuse by Egypt's prosecution service
Amnesty's report paints a damning picture of Egypt's Public Prosecution, which frequently accepts highly questionable National Security Agency evidence (including falsified dates of arrest to conceal the time detainees have spent under conditions of enforced disappearance). Prosecutors have based charges on "confessions" extracted under duress and have failed to investigate torture allegations, for example by ordering medical examinations. On the rare occasions where detainees have been referred by public prosecutors to an independent medical examination, their lawyers have not been permitted to see the results.
CASES
Amnesty's report features the detailed cases of 17 people subjected to enforced disappearance, who were held incommunicado for periods ranging between several days to seven months, cut off from the outside world and denied access to their lawyers or families or any independent judicial oversight. The two boys referred to below are among five children forcibly disappeared for up to 50 days whose cases are documented in the report.
Islam Khalil
Islam Khalil, 26, was subjected to 122 days of enforced disappearance in 2015. He was blindfolded and handcuffed for the whole of this time and brutally beaten, given electric shocks including on his genitals, and suspended naked by his wrists and ankles for hours at a time until he lost consciousness by National Security Agency interrogators in Tanta, a town north of Cairo. At one point his interrogator said: "Do you think that you have a price? We can kill you and put you in a blanket and throw you in any trash bin and no-one will ask about you." Another officer warned him to say his last prayers while giving him electric shocks.  He was later moved to National Security Agency's offices in Lazoughly Square, which he described as "hell", where he spent 60 days and suffered further torture.
Mazen Mohamed Abdallah
Mazen Mohamed Abdallah, 14, was subjected to enforced disappearance last September and suffered horrific abuse, including being repeatedly raped with a wooden stick in order to force him to "memorise" a false confession. National Security Agency interrogators repeatedly forced a stick into his anus, applied electric shocks to his genitals and other parts of his body, and threatened to arrest his parents if he retracted his "confession" when questioned by a prosecutor. His case is the first Amnesty has documented in Egypt of the rape of a child during a National Security Agency interrogation.
Aser Mohamed
Aser Mohamed, 14, was beaten, given electric shocks all over his body and suspended from his limbs in order to extract a false confession when he was forcibly disappeared for 34 days in January in National Security Agency offices in the 6th of October district of Greater Cairo. He was eventually brought before a state security prosecutor who warned him that he would face further electric shocks when he tried to retract his "confessions".
Call on Sisi
Amnesty's report calls on Egypt's president Abdel Fattah al-Sisi to urgently set up an independent commission of inquiry to investigate all allegations of enforced disappearances, torture and other ill-treatment of detainees by the National Security Agency and other agencies, with the power to probe all government agencies - including the military - without interference.