Egypt: acquittal of Irishman Ibrahim Halawa welcomed, but hundreds convicted in mass trial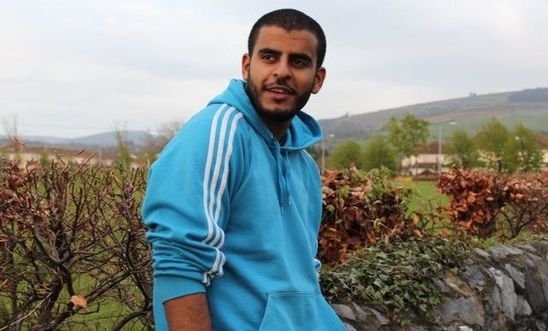 21-year-old Ibrahim Halawa was originally arrested over four years ago © Amnesty International
442 convicted after 'sham' proceedings, with sentences ranging from five years to life
The acquittal of young Irish national Ibrahim Halawa by a court in Egypt has been welcomed, though Amnesty International has strongly criticised the "disgraceful" conviction today of 442 others in a mass trial.
The acquittal of 21-year-old Ibrahim Halawa - who was arrested aged 17 along with more than 330 others during protests near the al-Fath Mosque in Cairo in August 2013 - brings a four-year ordeal to an end. Mr Halawa, from Dublin, had seen his case taken up by numerous campaigners in Ireland.
Amnesty had long stressed that there was no evidence that Halawa had been involved in any violence at the al-Fath protests, and Amnesty believes he was detained solely for peacefully exercising his rights to freedom of expression and assembly.  
However, after a grossly unfair mass trial involving 494 defendants, a Cairo criminal court has today sentenced 442 other defendants in the case, with sentences ranging from five years to life imprisonment. Forty-three defendants were given life sentences (25 years under Egyptian law), 399 were sentenced to between five and 15 years, and 52 were acquitted including Halawa. Of the 494 defendants in the case, 333 were in detention with the remainder sentenced in their absence. 
Amnesty analysed the casefile and spoke to at least five lawyers working on the case. It found that the court had relied entirely on unsound reports by security forces and investigations conducted by the National Security Agency as a basis for the convictions. According to an audiovisual evidence report sent by the Ministry of Interior to the court, out of the 330 defendants who have been detained in the case for more than four years, only two of the defendants appear to have evidence against them.
The trial took place in a courtroom inside Wadi al-Natroun prison, 70 miles north of Cairo. Lawyers told Amnesty that during the trial defendants were held behind a glass screen preventing them from hearing the proceedings or being able to participate in the trial. Meanwhile, trying defendants inside a prison also undermines their presumption of innocence. 
Amnesty is calling for all those convicted in the case to be re-tried in line with international due-process standards or released, while any detained and sentenced for peacefully exercising their legitimate rights should be released immediately.
Najia Bounaim, Amnesty International's North Africa Research Director, said:
"Ibrahim Halawa's acquittal puts an end to the gross injustice in his case. 

"However, it is utterly disgraceful that at the same time the Egyptian authorities have handed out heavy sentences to 442 others after sham proceedings in a mass trial that flouted the most basic standards of a fair trial, while security forces who used excessive and lethal force during protests that day have escaped unpunished.

"This trial has been a cruel farce from start to finish. From relying on questionable testimonies to dismissing key evidence and depriving the defendants of the proper means of defending themselves, these proceedings expose the deep flaws in Egypt's notorious criminal justice system."