Egypt: prominent blogger-activist Alaa Abdel Fattah tortured in detention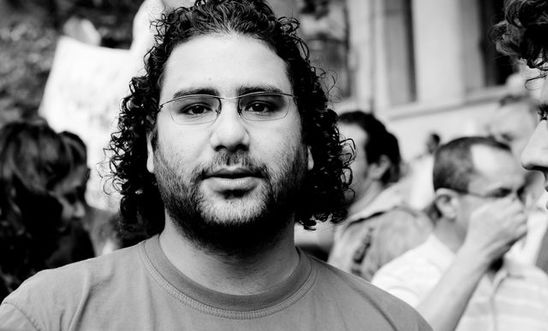 Alaa Abdel Fattah rose to prominence during the 2011 uprising against Mubarak © Hossam el-Hamalawy
Activist stripped and beaten in notorious Tora jail, while his lawyer also detained in degrading conditions 
Alaa Abdel Fattah rose to prominence during 2011 uprising against Mubarak
'Both men appear to have been targeted solely based on their legitimate work defending human rights' - Najia Bounaim
The Egyptian blogger and activist Alaa Abdel Fattah - who rose to fame during Egypt's 2011 uprising against former president Hosni Mubarak - has been tortured in detention. 
Following his arrest on 29 September during the authorities' latest crackdown, Alaa Abdel Fattah was transferred to Egypt's notorious Tora maximum security prison 2 - where prison officers blindfolded him, stripped him of his clothing, beat and kicked him repeatedly, and subjected him to threats and verbal abuse. 
One police officer told him prison was "made for people like you", saying he would be in prison for the rest of his life. A National Security Agency officer said he would face further torture if he reported the abuse. 
In addition, Alaa Abdel Fattah's lawyer Mohamed el-Baqer - a well-known human rights defender and director of Adala Center for Rights and Freedoms - has also been mistreated since being arrested on the same day as Alaa Abdel Fattah. He was blindfolded, stripped of his clothes and verbally insulted by prison guards, who also prevented him from showering for nine days, or from buying clean water or food from the prison canteen. 
Both men reported their ill-treatment when they appeared before prosecutors for questioning yesterday.
Alaa Abdel Fattah has been arrested repeatedly in recent years, including for his role in demonstrations during 2011, and served an unjust five-year prison sentence for participating in a peaceful protest in 2013. He was released from prison this March under probation conditions requiring him to spend 12 hours every night at a police station for five years. Despite the fact he didn't participate in the latest outbreak of protests, he was arrested and detained on charges of spreading false news and joining an illegal organisation. 
Alaa Abdel Fattah and Mohamed el-Baqer remain in Tora jail, where dire conditions have pushed dozens of detainees to go on hunger strike.
Najia Bounaim, Amnesty International's North Africa Campaigns Director, said: 
 
"The Egyptian authorities must immediately open an independent and impartial investigation into these shocking torture allegations, and urgently ensure Alaa Abdel Fattah's and Mohamed el-Baqer's protection.

"Both men appear to have been targeted solely based on their legitimate work defending human rights - they should not even be behind bars let alone facing torture and other ill-treatment. 

"The international community, and in particular Egypt's allies, must stand up to these dangerous developments and call on president Abdel Fattah al-Sisi to bring the country's worsening human rights crisis to an end."
Biggest crackdown
Since 20 September, the Egyptian authorities have launched the biggest crackdown under President Abdel Fattah al-Sisi's rule, rounding up more than 2,800 people - including protesters, politicians, journalists and human rights lawyers.