Egypt accused of 'toying with life' of activist on 230-day hunger strike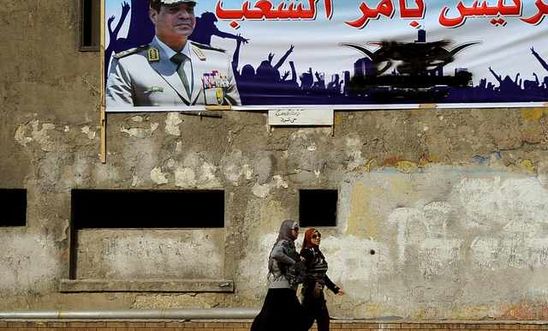 At least 16,000 detainees are being held in prisons and police stations under the post-Morsi clampdown © STR/AFP/Getty Images
US-Egyptian national Mohamed Soltan is among 86 jailed activists on hunger strike
The Egyptian authorities are endangering the life of a jailed activist whose health has sharply deteriorated after more than 230 days on hunger strike, said Amnesty International this afternoon.
Mohamed Soltan, a dual US-Egyptian national, is among 86 jailed activists who are on hunger strike in prisons and police stations across Egypt in protest at the dire conditions in which they are held, or in some cases, their prolonged pre-charge or pre-trial detention and unfair trials. They are also protesting against the repressive protest law that many of them are accused of breaching.  
Soltan's family have warned that his health is in a critical state and that he is at imminent risk of organ failure. The activist has been placed in solitary confinement in al-Aqrab maximum security prison as punishment for his hunger strike and according to his lawyer the prison authorities only transfer him to the prison medical unit when he loses consciousness. He is returned to his cell each time he comes round.  
Soltan was arrested in August last year during the crackdown against pro-Morsi supporters at Rabaa Al Adeweya Square. He had been working with a media committee which reported violations by the security forces against Morsi supporters since the former president's ousting. Soltan has been charged with "funding the Rabaa al-Adawiya sit-in" and spreading "false information" to destabilise the country. Security forces raided his home in Cairo on 25 August 2013 looking for his father, Salah Soltan, a Muslim Brotherhood figure. The security forces then arrested Mohamed Soltan and three of his friends when they failed to find his father.
Amnesty International Middle East and North Africa Deputy Director Hassiba Hadj Sahraoui said:
"Denying medical care to someone who is critically ill is not just callous and cruel, but blatantly unlawful.

 

"Mohamed Soltan should not have been in jail in the first place and what he is accused of should not be a criminal offence. Now the authorities are toying with his life in this manner. He should be released without delay.

 

"The authorities have an obligation to ensure the right to health of all detainees, including hunger strikers. Punishing detainees to force them to end their hunger strike is a violation of their right to freedom of expression."
The hunger strike campaign
In another case illustrating the inhumane treatment of hunger-strikers, Egyptian security forces have attempted to force Ibrahim El Yamany to end his hunger strike protest by placing him in solitary confinement for 20 days and tying his arms and legs to the bars of his cell door for several hours in Wadi al Natroun Prison. He has been on hunger strike for more than 150 days. He was detained for his work in a field hospital during protests in Ramsis Square in Cairo on 16 and 17 August last year, and has been charged with belonging to a banned group, protesting without authorisation and using violence, among other charges.
Other prominent detainees on hunger strike include the well-known blogger Ahmed Douma, who is serving a three-year prison sentence for defying Egypt's draconian protest law. Another is Sanaa Seif, a well-known activist who has been on hunger strike since 28 August. Her father, the well-known human rights lawyer Ahmed Seif al-Islam, died last month and Seif is on hunger strike in protest at the authorities' refusal to allow her to spend some time with her father in his final days. 
There are several other prisons across Egypt where detainees held in harsh detention conditions are also on hunger strike. According to "Freedom for the Brave Campaign" - a support group for prisoners - at least 57 detainees are on hunger strike in Abu Zabaal Prison in Cairo and at least 15 are on hunger strike in Tora Prison. Meanwhile, outside of prisons, at least 54 activists and human rights defenders are on hunger strike in solidarity with those in detention, including Sanaa Seif's sister, Mona Seif, and Aida Seif El Dawla, executive director at al Nadeem Center for Rehabilitation of Victims of Violence. 
16,000 detainees
According to official statistics, the Egyptian authorities continue to hold at least 16,000 detainees in prisons and police stations since the ousting of former president Mohamed Morsi. Their conditions of detention frequently fall far short of international human rights standards and may amount to cruel, inhuman and degrading treatment. Often the detainees face trumped-up or politically-motivated charges and trials that fall far short of international standards.
Amnesty is insisting that the Egyptian authorities abide by their international obligations, including by carrying out fair trials that meet international standards, and immediately and unconditionally release all those detained solely for peacefully exercising their right to freedom of expression, association and assembly.