Edinburgh Fringe: Amnesty announces Freedom Of Expression Award longlist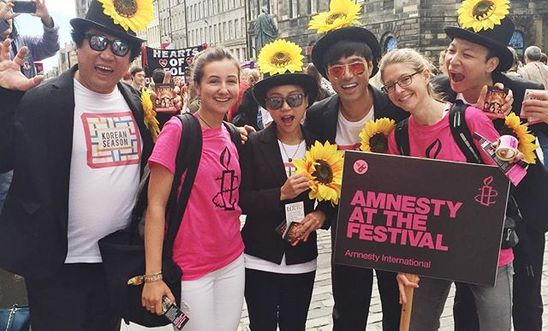 Amnesty activists campaigning to free Atena during the Edinburgh Fringe Festival © Amnesty International
'The Edinburgh Fringe Festival programme proves once again that human rights are right at the heart of the arts' - Naomi McAuliffe
Amnesty International has announced a longlist of 85 shows for its Freedom of Expression Award 2015. The Award, now in its 12th year, is made to an outstanding artistic production with a powerful and inspiring human rights message at the Edinburgh Fringe Festival.
Naomi McAuliffe, Amnesty International's Scotland Programme Director, said:
"We want to see productions that inspire, inform, engage and sometimes terrify us by their powerful depictions of human rights abuses. This year's Edinburgh Fringe Festival programme proves once again that human rights are right at the heart of the arts - we cannot wait to see the inspirational shows selected for our Freedom of Expression Award.
Joyce McMillan, The Scotsman theatre critic, said: 
"The Amnesty International Freedom of Expression Award is one of the most significant awards on the Edinburgh Fringe, not least because it highlights the Fringe's unique role as an open festival which often provides a platform for voices that have long gone unheard, or for the exploration of subjects that those in power would rather leave untouched. It's a privilege to be one of the judges whose task it is to recognise such powerful and important work, and its vital place in this great festival."
Neil Cooper, The Herald theatre critic, said:
"The importance of Amnesty International's Freedom of Expression Award cannot be overstated. Over the decade or so I've been involved in the Award, the world has become an increasingly complex place, in which human rights are being decimated both abroad and too close to home for comfort or complacency. It is vital that artists and theatre-makers stand up to those violations in the best ways they can in order to raise consciousness and give voice to those who might otherwise be silenced."
Amnesty celebrates freedom of expression during the world's largest arts festival through the Freedom of Expression Award and a programme of free Imprisoned Writers events every day of the Edinburgh International Book Festival. 
'Free Atena' campaign
Amnesty's 2015 Edinburgh Festival Campaign is for imprisoned cartoonist 29-year-old Atena Farghadani - who in June was sentenced to more than 12 years in prison in Iran after she was found guilty of charges including "insulting members of parliament through paintings". Her trial lasted just half an hour - the only 'evidence' against her extracted under interrogation.  We are calling on Iran to release her and asking members of the public attending the Edinburgh Fringe Festival to sign our
petition to free Atena
.
Notes to editors
The Freedom of Expression Award judging panel comprises: Joyce McMillan of the Scotsman, Neil Cooper of the Herald, Catherine Love, freelance theatre critic with The Stage, Stephanie Knight; an independent artist-researcher, and Naomi McAuliffe, Amnesty International's Scotland Programme Director.
The full longlist is available
here
.