Denmark will be breaking international law if Syrian refugees forced to return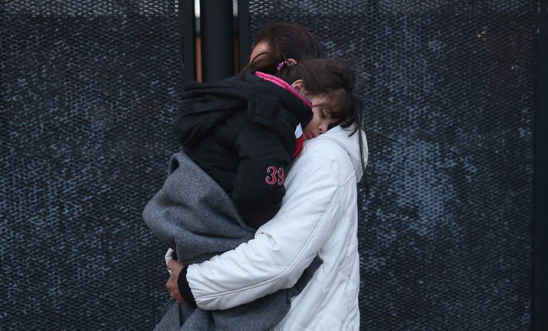 Refugees from Syria © Sean Gallup/Getty Images
Decision to revoke residency permits of Syrian refugees puts them at risk of torture, enforced disappearance and arbitrary detention if forced back
'It beggars belief that the Danish authorities could deem certain parts of Syria – a country where people are routinely detained, disappeared and tortured – safe for return' - Nils Muižnieks
Amnesty International has today launched a global 'Urgent Action' calling for the protection of Syrians in Denmark who are at risk of return. Earlier this year, Denmark stripped at least 380 Syrian refugees of their residency permits or did not renew it at the Danish Immigration Service. They were asked to return to so called "safe zones" in Syria.
The decision that Syria is safe for people to return goes against the assessments of international experts on Syria and the UN Refugee Agency, UNHCR.
Many of the refugees are still waiting for the final decision in appeal but 39 people are at risk of being deported as soon as Denmark re-establishes diplomatic ties with the Syrian regime. Deportations are not imminent and those affected are expected to stay in the return centres until deportations resume – or until they decide to "voluntarily" return to Syria.
Research by Amnesty has found that civilians who have returned to Syrian government-controlled areas, including Damascus, are required to go through a "security clearance" which involves interrogation by Syrian security forces. The Syrian security forces have been responsible for widespread and systematic human rights violations and abuses constituting crimes against humanity, including the use of torture, extrajudicial executions and enforced disappearances. 
Nils Muižnieks, Europe Director at Amnesty International, said:
"Having escaped a warzone, at least 39 refugees who have had their final decision, are now facing the stark prospect of 'voluntarily' returning to Syria or being taken to return centres to await deportation. The destiny of hundreds more is still unknown. 

"It beggars belief that the Danish authorities could deem certain parts of Syria – a country where people are routinely detained, disappeared and tortured – safe for return.

"Placing refugees in return centres indefinitely, without access to work or education, puts pressure on them to return. Forcing them back to Syria, even indirectly, would put them at real risk of torture and other serious abuses and would constitute a violation of international law.

"The Danish authorities must reverse this unconscionable decision to revoke temporary protection status for Syrians and end the targeting of these refugees who have already been forced to flee their homes and families."
Amnesty is inviting supporters around the world to write to the Danish Minister of Immigration and Integration calling for the ongoing protection of Syrian refugees in Denmark at https://www.amnesty.org/en/documents/eur18/4010/2021/en/