David Cameron 'wrong' to say vast majority of Mediterranean migrants not asylum-seekers at PMQs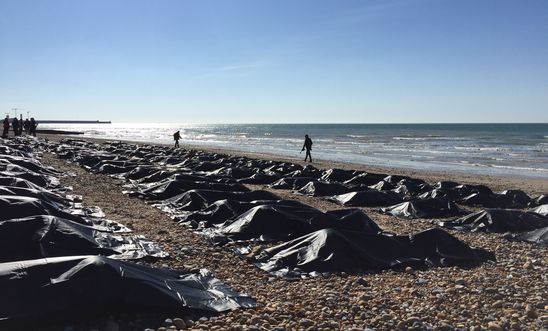 An Amnesty 'body bags' stunt in Brighton earlier this year to draw attention to the crisis in the Mediterranean © Amnesty International
'At least half of those risking their lives in the Mediterranean are fleeing persecution in places like Syria, Eritrea and Somalia' - Steve Symonds
Amnesty International has said the Prime Minister David Cameron was "completely wrong" to say at today's Prime Minister's Questions that "the vast majority of Mediterranean migrants are not asylum-seekers" in answer to a question about the UK's refusal to take part in an EU refugee quota system on the issue. 
Amnesty and other monitoring groups have said that the single largest group by nationality attempting the Mediterranean crossing in recent months have been people from war-torn Syria, nearly all of whom will be internationally-recognised refugees. Estimates from various sources suggest this group constitute up to a third of those attempting the perilous crossing.
The next single largest group comprises Eritreans - with the great majority of these also very likely to be refugees. Although numbers fluctuate, during last year Eritreans and Syrians alone amounted to nearly 50% of those boarding boats in the Mediterranean, with the two groups also constituting the largest number during the first four months of 2015.
Meanwhile, significant numbers of Somalis, Iraqis and Afghanis attempting to reach safety in southern Europe are also likely to include a large proportion of refugees.
Amnesty International UK's Refugee and Migrant Rights Director Steve Symonds said:
"David Cameron was completely wrong to say the vast majority of Mediterranean migrants are not asylum-seekers. 

 

"At least half of those risking their lives in the Mediterranean are fleeing persecution in places like Syria, Eritrea and Somalia.

 

"We all know that PMQs is a political knockabout, but the Prime Minister has a duty to stick to the facts - not least on an issue where tens of thousands of people's lives are at stake."
Record number of deaths in 2015
Nearly half of those who crossed the Mediterranean in 2014 were prima facie refugees.  According to the EU's frontier agency Frontex, Syrians and Eritreans accounted for 46% of the 170,000-plus people who reached Italy by boat in 2014. Other large numbers come from Sudan, Afghanistan or Iraq. Overall, a record 219,000 people crossed the Mediterranean in smugglers' boats in 2014, and 3,500 died. Around half of these people were refugees fleeing war and persecution. So far in 2015 some 62,500 people have made the crossing, and at least 1,800 have already died.